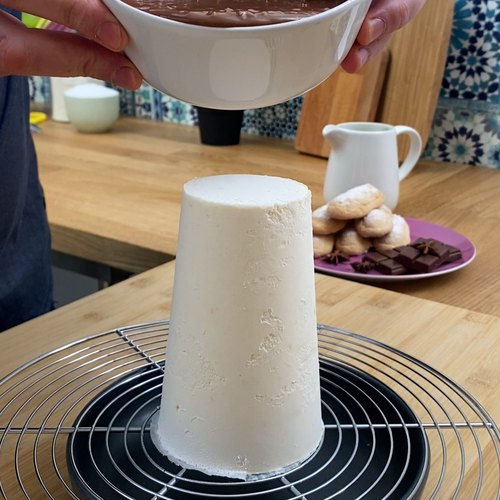 Chai Latte Tiramisu
Your favorite drink just became dessert!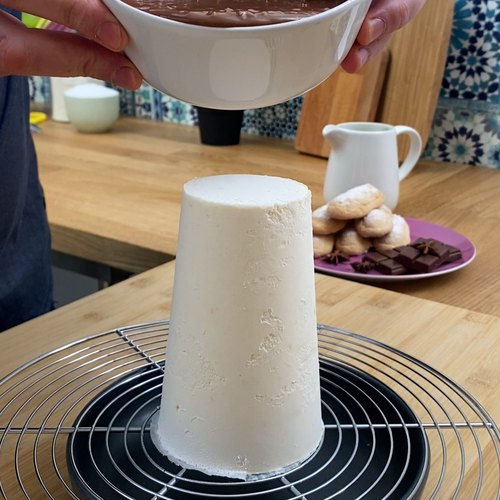 ---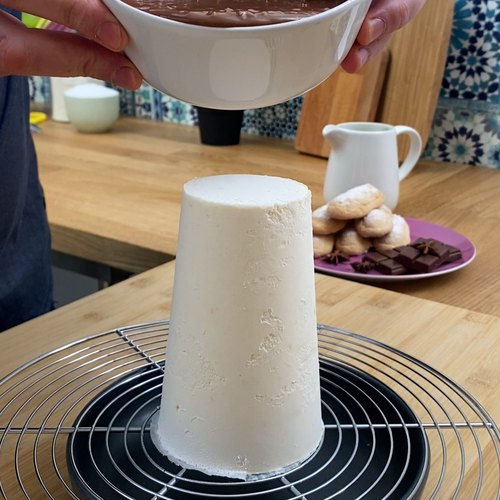 ---
Ingredients for 2 people
12 fl oz of chai latte
1 cup of milk chocolate, divided
2 gelatin sheets
1 cup of heavy whipping cream
1/3 cup of caramel sauce
4 lady finger cookies
1/3 cup of chopped almonds
---
Tools
Box cutter
Circular cookie cutter
Piping bag
---
Step 1/4
Melt 1/2 cup milk chocolate. Take the lid of the latte cup and paint it with chocolate. Let sit in the fridge for 5 minutes. Then pour the remaining melted chocolate into the lid and let the chocolate drain into a bowl. Place in fridge for 30 minutes.
Step 2/4
For the chai flavored mousse: Pour 1 cup of the chai latte into a sauce pan and bring to a boil. Remove from heat and add in the pre-soaked gelatin sheets (soak in water). Mix well and let chill for 10 minutes. In a large bowl, whip the heavy whipping cream using an electric mixer. Then add in 1/3 of the whipped cream to the cooled chai mix and mix delicately. Next pour the entirety of the chai mix into the bowl with the whipped cream and mix delicately. Pour the mix into a piping bag.
Step 3/4
Pour the remaining chai latte into a bowl. Pipe the chai flavored whipped cream into the empty latte cup. Alternate layers of whipped cream, caramel, and chai-soaked lady fingers. Fill to top and freeze 1 hour. Remove from the freezer and use a box cutter to cut away the paper coffee cup.
Step 4/4
Place the coffee cup lid side down on a cooling rack with a tray beneath it. Add the chopped almonds to 1/2 cup melted milk chocolate. Pour the chocolate mixture over the frozen latte, making sure to evenly cover the surface. Turn the coffee cup right side up and cover with the chocolate lid. Serve and enjoy!