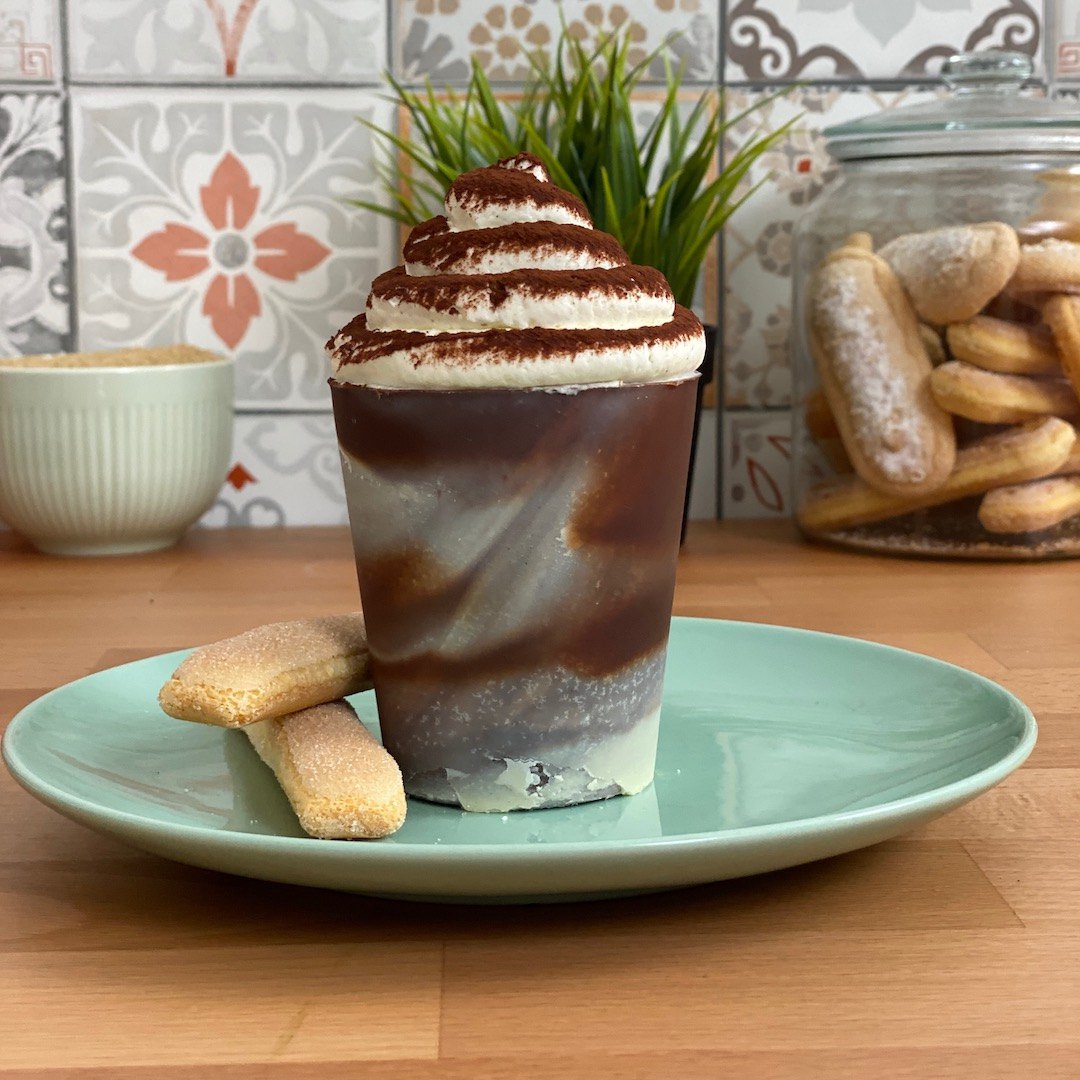 Tiramisu Latte
Served in your very own edible cup ☕️🍫😋
Made by you!
Ingredients
3/4 cup dark chocolate
3/4 cup white chocolate
1 vanilla bean
2/3 cup mascarpone cheese
1 1/4 cups heavy cream
1/8 cup powdered sugar
2 cups brewed coffee
20 lady finger cookies
1/2 cup cocoa powder
Chefclub's Chocolate Spread
Tools
3 paper cups
Electric mixer
2 plastic bags
1. Melt the dark and white chocolate separately, then pour into each cup, alternating dark, white, and dark chocolate. Tilt the cups so the chocolate covers the entire surface, then turn the cups over to pour the excess chocolate into a ramekin. Place cups upside down on a wire rack and let cool.
2. Pour some of the remaining melted chocolate into the bottom of the cups and tilt them again to spread the chocolate around. Place them on the rack and set aside for 1 hour in the refrigerator.
3. Split the vanilla bean and scrape out the seeds. Whip the mascarpone, cream, powdered sugar, and vanilla seeds with an electric mixer.
4. Soak the lady finger cookies in coffee and place on a sheet of parchment paper in 2 rows of 10 lady fingers. Assemble into a rectangle and cover with whipped cream. Sprinkle with cocoa powder and then roll with the help of the parchment paper. Place in fridge for 1 hour. After cut the roll into small circular cake slices.
5. Remove the chocolate from the cups and place on plates. Fill ¾ of the freezer bag with whipped cream and cut 1 bottom corner to make a piping bag. Line the bottom of the cups with whipped cream. Place 1 slice of cake in each cup, top with a layer of whipped cream, a cake slice, another layer of whipped cream, a final cake slice, and top with whipped cream. Then place chocolate spread in a freezer bag and cut off the bottom corner to make a piping bag. Fill the center of the cup with the chocolate spread and finish by decorating the top of cup with whipped cream. Sprinkle with cocoa powder and enjoy!
Similar recipes from Chefclub