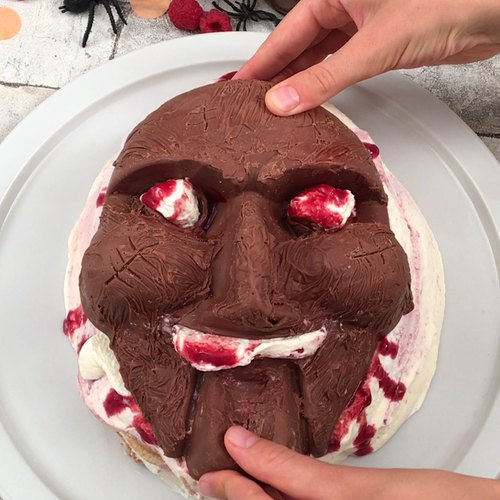 Terrifying Tiramisu
Oozing with blood-curdling delight!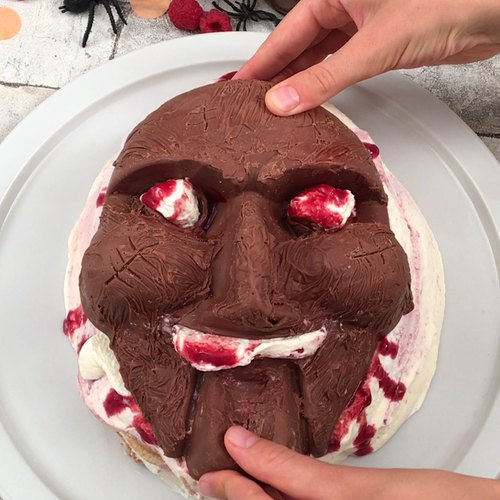 ---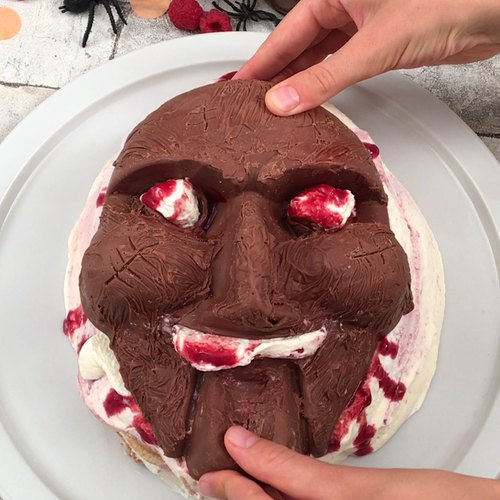 ---
Ingredients for 4 people
melted milk chocolate
8 oz of mascarpone cheese
7 tbsp of powdered sugar
2 cups of heavy cream
vanilla bean, scraped
mixed berry sauce
lady finger cookies
mixed berries
---
Tools
Plastic wrap
Toothpick
Plastic halloween mask
---
Step 1/3
Whip the mascarpone, powdered sugar, heavy cream, and vanilla bean into whipped cream. Dip 5 cookies into berry sauce and place them alongside each other on a plate. Cover them with whipped cream and place a layer of berries followed by another layer of whipped cream. Dip the last 5 cookies in berry sauce, then place them on top of the whipped cream. Cover with more whipped cream and set in the refrigerator to chill.
Step 2/3
Cover the inside of the mask with plastic wrap, then pour a layer of melted milk chocolate to line the inside. Remove any remaining chocolate and repeat a second time to form a thicker layer. Let harden, then unmold the chocolate mask. Using a toothpick, draw scars on the chocolate face.
Step 3/3
Pour the rest of the berry sauce over the tiramisu, then push the chocolate mask over it so that the cream comes out of the eyes and mouth. Break the chocolate and enjoy your spooky treat!