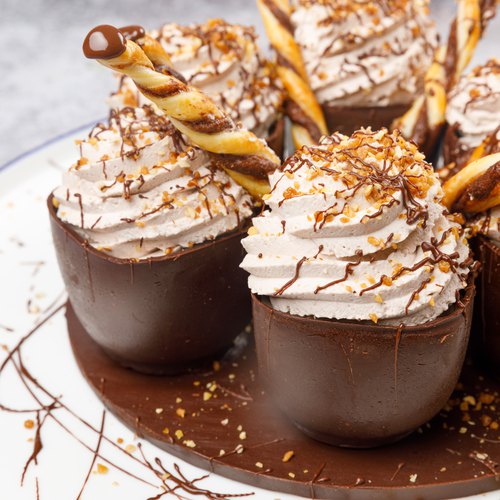 Charming Chocolate Cup
Charming Chocolate Cup! Time to take a bite into these cute desserts 🤩🍫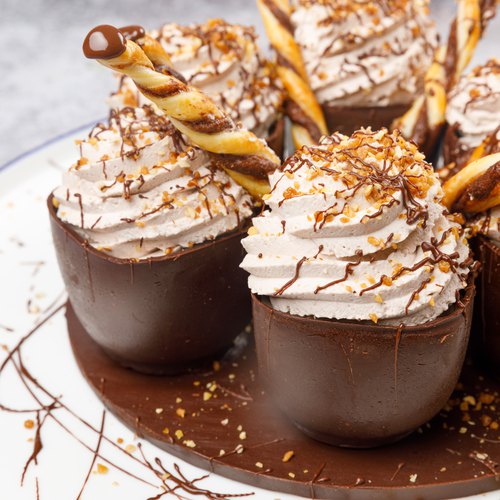 ---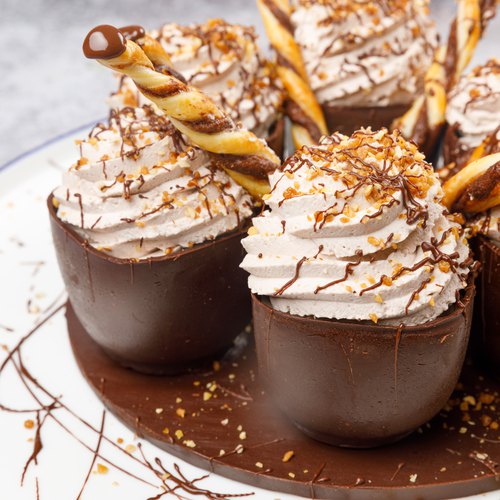 ---
Total time: 1 hour 50 minutes
Prep time: 35 minutes, Cook time: 15 minutes, Rest time: 1 hour
Ingredients for 6 people
2 1/2 cups of heavy cream
2 cups of milk chocolate
6 chocolate pudding
3/5 cup of crushed hazelnuts
4 tbsp of chefclub chocolate spread
1 puff pastry
2 1/2 cups of mascarpone
6 tbsp of powdered sugar
ice cream
---
Tools
Baking sheets
Empty jar of chocolate spread
Empty plastic bottles
Balloon
Ziplock bag
---
Step 1/4
Melt the chocolate and pour the chocolate puddings into a bowl. Wash the empty containers in 1 liter of water. Pour the melted chocolate inside and spread evenly. Pour the excess chocolate onto a plate lined with a baking sheet. Spread the chocolate to form a circle. Refrigerate the chocolate containers and the chocolate circle for 30 minutes.
Step 2/4
Unmold the chocolate cups from the containers and heat the base to stick them onto the chocolate circle. Chill 30 minutes in the fridge. Place the empty jar of chocolate spread in a bowl filled with ice cubes. Pour the rest of the melted chocolate and 5.5 tbsp of heavy cream inside. Mix until well combined. Form 5 balls with the spread mixture, roll them in the crushed hazelnuts then set aside.
Step 3/4
Cut the top of a plastic bottle. Cut the end of a balloon and place it in the neck of the bottle. Garnish the balloon with hazelnuts then crush the hazelnuts by pulling on the balloon to throw the hazelnuts quickly against the plate. Pour the Chefclub chocolate spread on half of the puff pastry. Sprinkle the crushed hazelnuts and fold the puff pastry on itself. Cut the dough into strips to form filaments and twist them. Place the twists on a baking pan covered with a baking sheet. Bake for 15 minutes at 320°F.
Step 4/4
Mix the remaining heavy cream, mascarpone and powdered sugar into a whipped cream. Place the whipped cream in a ziplock bag then cut a corner. Garnish the chocolate cups with whipped cream. Place a chocolate hazelnut ball in each of the cups and cover with more whipped cream. Sprinkle with crushed hazelnuts and dip the twists in the remaining melted chocolate. Pour lines of melted chocolate on each cup. Place the chocolate twists in the center of the cups. You can serve with ice cream and enjoy!