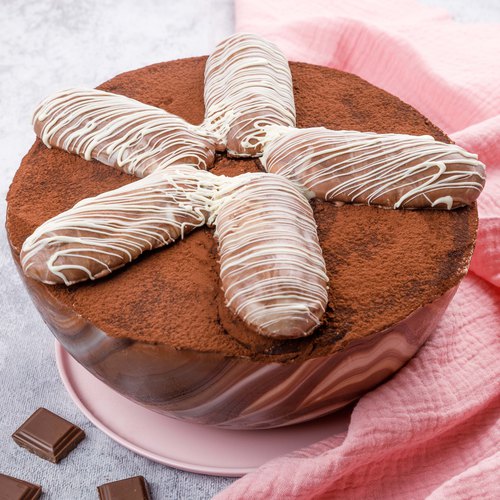 Hypnotic Tiramisu Bowl
Hypnotic Tiramisu Bowl! You will be mesmerized by this reinvented classic 🍫😋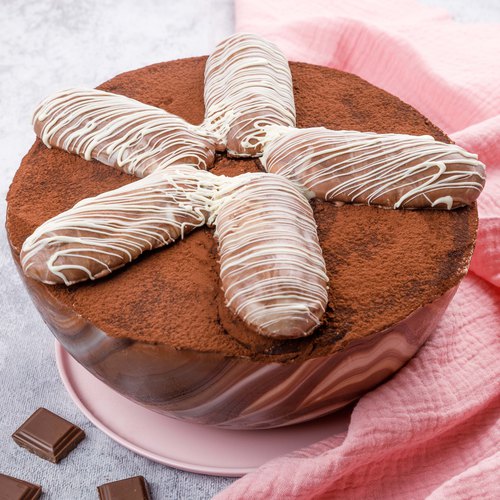 ---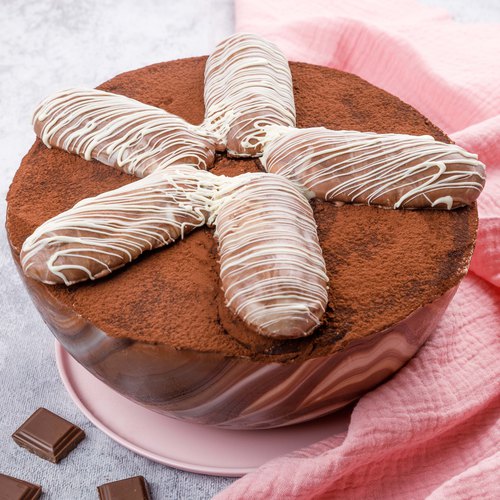 ---
Total time: 3 hours 15 minutes
Prep time: 45 minutes, Rest time: 2 hours 30 minutes
Ingredients for 8 people
6 egg yolks
0.9 cup of sugar
26 oz of mascarpone
1.9 cups of heavy cream
3 tbsp of powdered sugar
5 stuffed chocolate bars
3/5 cup of coffee
3 1/2 oz of milk chocolate
3 1/2 oz of white chocolate
3 1/2 oz of dark chocolate
Ladyfingers
Cacao powder
---
Tools
Piping bag
parchment paper
---
Step 1/4
Mix the egg yolks and the sugar until you obtain a smooth mixture. Add the mascarpone, the heavy cream and the powdered sugar then whip the mixture. Place the mascarpone cream in a piping bag and set aside.
Step 2/4
Melt 2 stuffed chocolate bars in the coffee, soak the ladyfingers with the chocolate coffee mixture and set them aside. Pour 1 liter of water into a bowl, set aside for 2 hours in the freezer to form a half-sphere of ice. Unmold the half-sphere of ice from the bowl and place it upside down on a wire rack. Melt the milk chocolate, the white chocolate, the dark chocolate, pour them into a container, forming layers of chocolate, pour the chocolates over the half-sphere of ice and allow to set.
Step 3/4
Unmold the chocolate shell from the half-sphere of ice. Place 5 ladyfingers on a grid above a plate, forming a star, pour the rest of the melted white chocolate over the end of the ladyfingers and in the center to bind the ladyfingers together. Place the rest of the stuffed chocolate bars on a plate, place the plate over a pot of boiling water to melt the stuffed chocolate bars and then spread them on the plate.
Step 4/4
Coat the ladyfingers with the melted stuffed chocolate bars. Pipe the mascarpone cream in the chocolate shell until halfway, place 6 ladyfingers then cover with mascarpone cream. Smooth the mascarpone cream on top, sprinkle with cacao powder then refrigerate for 30 minutes. Form a cone of parchment paper, pour the rest of the white chocolate by forming lines on the chocolate ladyfinger star, place the star on the cacao powder and enjoy!