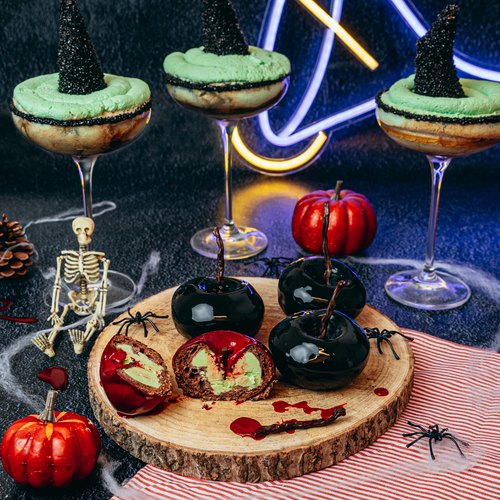 Evil Queen Cocktail
Evil Queen Cocktail! With some very tempting & tasty apples 🍸👑🍎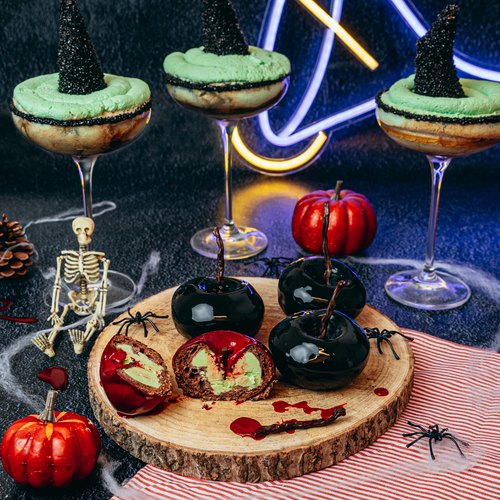 ---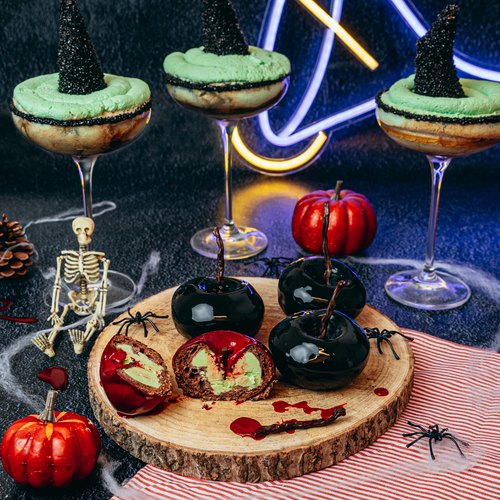 ---
Total time: 2 hours
Prep time: 1 hour 30 minutes, Cook time: 30 minutes
Ingredients for 3 people
1 cup of milk
1/2 cup of butter
1 cup of sugar
1 3/4 cups of flour
1 pinch of salt
4 egg
3 1/2 oz of dark chocolate
6 oz of black sprinkles
3 ice cream cones
1 1/4 cups of heavy cream
1 tsp of powdered sugar
3 oz of mascarpone
3 scoops of vanilla ice cream
4 tbsp of coffee
2 tbsp of vodka
2 tbsp of coffee liqueur
2 1/2 tsp of cornflour
1/2 tsp of gelatin
3 1/2 oz of white chocolate
Green food coloring
Red food coloring
Black food coloring
4 tbsp of brown sugar
Pistachio ice cream
---
Tools
Piping bag
Circular cookie cutter
Rolling pin or metal rod
Skewers
Electric mixer
---
Step 1/4
Mix 0.4 cup of water, 0.4 cup of milk, 1/3 cup of butter, salt and a tsp of sugar. Bring to a boil, add 1.2 cups of flour off the heat and mix with a mixer. Add the eggs gradually.
Step 2/4
Melt the dark chocolate. Dip the end of a stemmed glass into the melted dark chocolate and add the black sprinkles. Repeat the process to have 3. Cut the tip of the ice cream cones. Dip the end of the tip in the melted chocolate, place it diagonally on the ice cream cone. Coat the outside of the cone with melted chocolate, sprinkle with black sprinkles.
Step 3/4
Whip 0.6 cup of heavy cream, the powdered sugar, the mascarpone, add the green food coloring to obtain a green whipped cream and place it in a piping bag. Place 1 scoop of Chefclub vanilla ice cream in each glass, place ice cream cones on top, add coffee, vodka and coffee liqueur. Pipe the whipped cream around the cone. Heat the rest of the milk, the rest of the liquid cream, the rest of the sugar, add the cornflour, 2 tbsp of water and mix until boiling. Add the gelatin, the white chocolate and mix to obtain frosting. Divide the frosting in 2, add the red food coloring to one part and the black food coloring to the other.
Step 4/4
Mix the rest of the soft butter, the brown sugar, the rest of the flour until you obtain a smooth cracker dough. Spread it with a rolling pin. Pipe the choux pastry into 4 buttered cups, cut out circles in the cracker dough using the circular cookie cutter and arrange them on the choux pastries. Bake for 30 minutes at 320°F. Place the pistachio ice cream in a piping bag. Unmold the choux pastries from the cups, pipe the pistachio ice cream inside, prick the puffs with skewers, coat 1 puff with red glaze, coat the others with black glaze. Arrange them on a plate, remove the skewers and replace them with the chocolate rods. Enjoy!