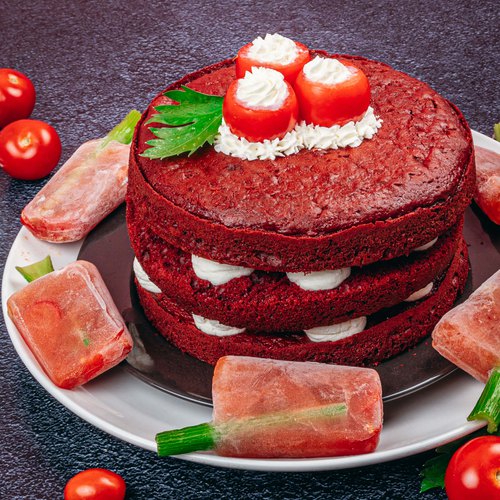 Bloody Mary Cake & Cocktail
Bloody Mary Cake & Cocktail! A bloody brilliant recipe just for you 😁🍅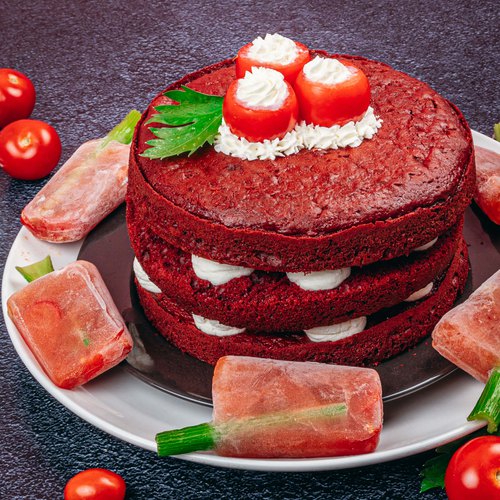 ---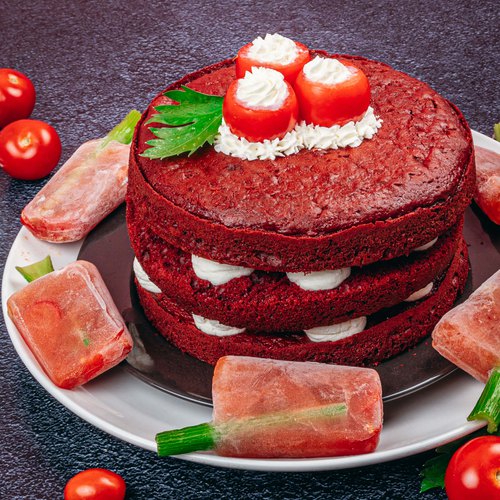 ---
Total time: 2 hours 35 minutes
Prep time: 15 minutes, Cook time: 2 hours , Rest time: 20 minutes
Ingredients for 6 people
18 cherry tomatoes
Celery sticks
1 cup of vodka
3 cups of tomato juice
1 tbsp of hot sauce
1 tbsp of worcestershire sauce
3 olives
2 egg
1 box of vanilla cake mix
1 cup of ketchup
1 tsp of thyme
1 tsp of baking soda
3 cups of cream cheese
2 tbsp of heavy cream
Paprika
Pepper
2 tsp of baking powder
---
Tools
Cocktail shaker
Popsicle mold
Electric hand mixer
---
Step 1/3
Add slices of tomatoes inside the popsicle mold. Place the celery sticks upright in the mold. Mix vodka, tomato juice, hot sauce, Worcestershire sauce, pepper and paprika. Pour into the popsicle mold. Add an olive on top and freeze until set.
Step 2/3
Add the vanilla cake mix to a bowl and mix with eggs, ketchup, baking powder, baking soda and spices. Mix until smooth. Pour into a cake pan and bake 20 minutes at 350°F.
Step 3/3
Once the cake has cooled, cut into 3 layers. Pipe cream cheese frosting between each layer and add on top with cherry tomatoes. Serve the cake with the popsicles and enjoy!