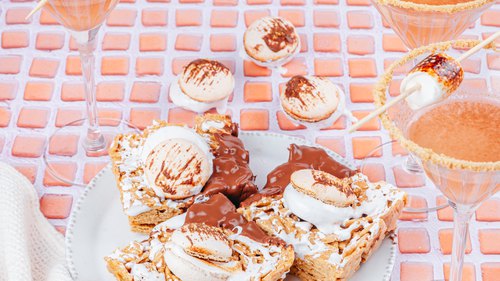 Campfire Macaron Cocktail
Campfire Macaron Cocktail! Let's get it macaron in the kitchen today 😎🍸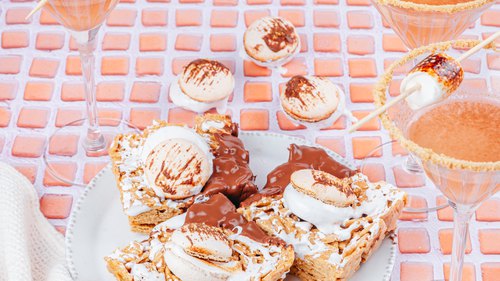 ---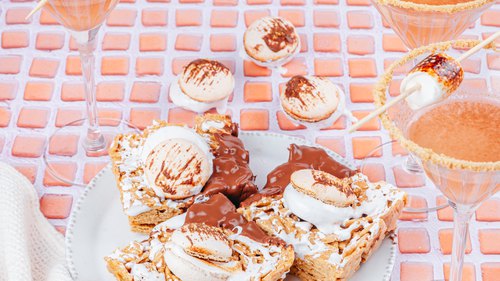 ---
Total time: 1 hour 30 minutes
Prep time: 55 minutes, Cook time: 15 minutes, Rest time: 20 minutes
Ingredients for 3 people
Almond flour
2 bags of marshmallows
1 cup of powdered sugar
1 cup of sugar
3 egg whites
1 chocolate bar
1 cup of vodka
1 paquet of golden grahams cereal
1/2 cup of butter
Marshmallow fluff
---
Tools
Shot glass
Electric hand mixer
Blowtorch
Chefclub baking mat
Martini glasses
Skewers
Piping bag
parchment paper
---
Step 1/4
Place egg whites in a mixing bowl with granulated sugar and begin to beat for about 2 minutes. Turn mixer to medium speed for another 2 minutes. The mixture will become glossy. Turn the mixer to high and whip egg whites until you have stiff peaks.
Step 2/4
Sift almond flour and powdered sugar together. Resift 3 time to get rid of all the lumps. Add dry mixture to egg white mixture and fold batter about 20 times until you reach a ribbon stage. The batter will slowly fall from the spatula (do not overmix). Pipe macarons onto parchment paper using a macaron template. Allow the macarons to dry for 7 minutes. Bake at 325°F for 11 minutes.
Step 3/4
Place butter in a pot on medium heat. Toast marshmallows then add to butter. Allow to melt and add the gold grahams. Put mixture into a loaf pan and press down to set. Push shot glasses into the mixture and allow to set. Remove shot glasses and cut bar into three pieces. Add marshmallows and melted chocolate bar to the vodka. Shake to mix, and allow marshmallows to dissolve.
Step 4/4
Toast marshmallow fluff and add to a piping bag. Pipe on one side of macaron and add a top. Toast the sides of the fluff inside the macarons. Pour vodka into a martini glass and add a marshmallow. Use blowtorch to toast. Add the macarons to the top of the bars and serve. Enjoy!