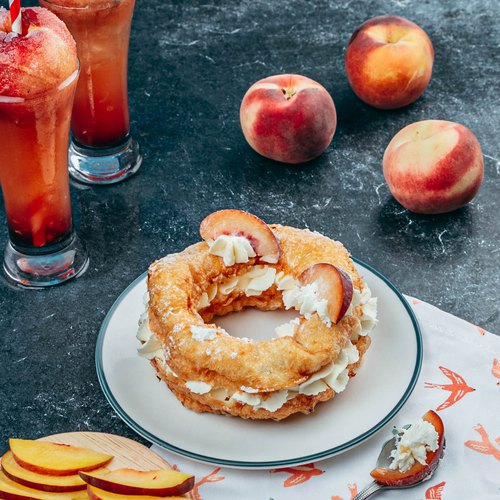 Peachy Sex On The Beach
Peachy Sex On The Beach! With a refreshing & fruity choux pastry 🍑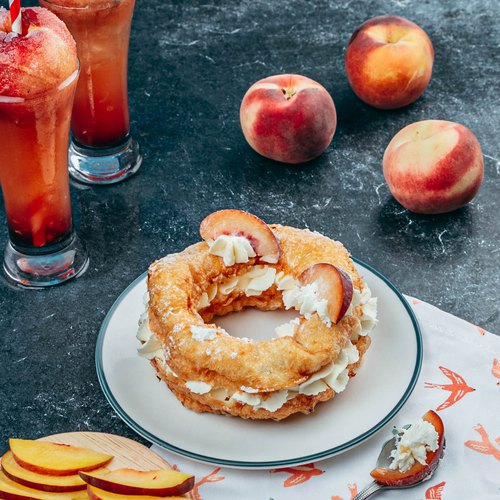 ---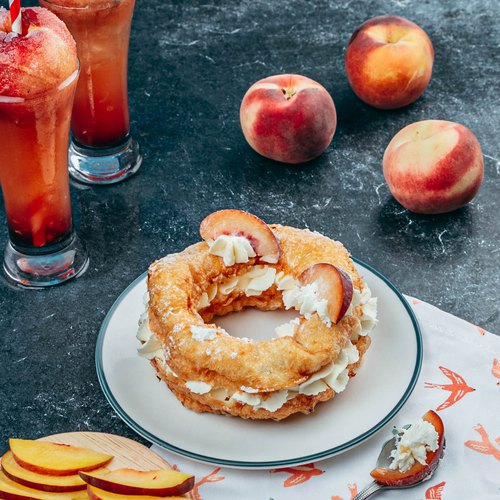 ---
Total time: 10 minutes
Prep time: 10 minutes
Ingredients for 3 people
4 peaches
1/2 cup of flour
1 cup of sugar
1 tsp of salt
4 egg
0.3 cup of butter
Oil
4/5 cup of heavy cream
3 1/2 oz of mascarpone
7 tbsp of powdered sugar
0.2 cup of water
0.2 cup of peach liqueur
1/2 cup of vodka
1/2 cup of cranberry juice
1/2 cup of orange juice
Grenadine syrup
---
Tools
parchment paper
Straw
---
Step 1/3
In a pan heat the water, butter, sugar and salt. Once the butter is melted, add the flour all at once and mix until smooth. Cool slightly and add the eggs one by one. Pipe the dough on parchment paper around a peach and fry the circle of dough in hot oil until golden brown. Allow to cool and cut in 2 lengthwise. Mix the heavy cream, mascarpone and powdered sugar together. Garnish the puff pastry with the whipped cream mixture. Sprinkle with powdered sugar and pieces of peach.
Step 2/3
Hollow out 3 peaches and remove the pit. Mix water and sugar. Dip the peaches in the syrup and sprinkle with powdered sugar.
Step 3/3
Mix vodka, orange juice, cranberry juice and peach liqueur. Pour into glasses filled with ice cubes and add a dash of grenadine. Place the frosted peach on top and add a straw. Serve with the pastries and enjoy!