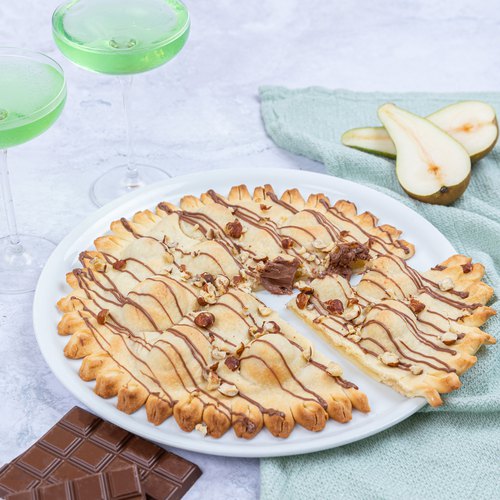 Champagne & Pie Cocktail Party
Champagne & Pie Cocktail Party! Bring out the bubbly 🥂🥧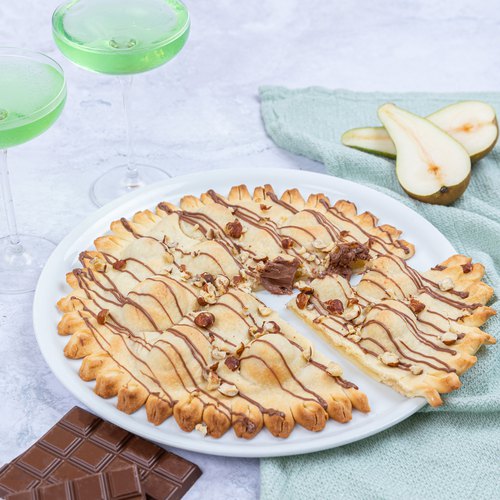 ---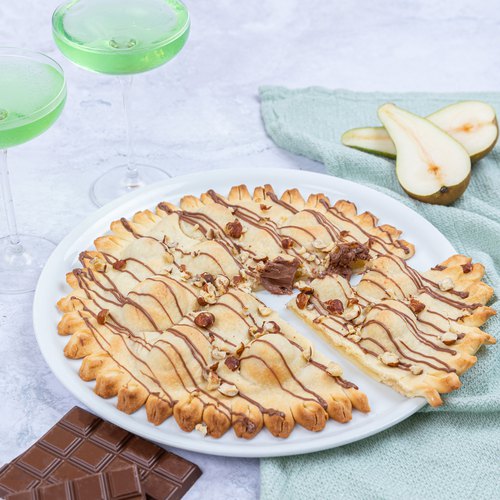 ---
Total time: 35 minutes
Prep time: 15 minutes, Cook time: 20 minutes
Ingredients for 6 people
10 marshmallows
1/2 cup of pop rocks
4/5 cup of vodka
2.1 cups of apple juice
3.2 cups of prosecco
2 shortcrust pastry
4 tbsp of pear compote
1 pear
1 cup of sugar
6 chocolate truffle
1 oz of milk chocolate
12 hazelnuts
Green food coloring
---
Tools
Soda maker
---
Step 1/3
Melt the marshmallows, place them on a plate and dip the rims of the cocktail glass. Dye the Pop Rocks, then roll the edges of the glass into the candy. Add a few drops of food coloring to the vodka bottle, then carbonate using a soda maker. Pour the vodka, apple juice and prosecco into the cocktail glass and set aside.
Step 2/3
Poach the pear in ½ liter of water and 1 cup of sugar. Unroll the shortcrust pastry and spread a thin layer of pear compote on top. Cut the pear into strips and place them on the compote. Cut the chocolate candies in 2, place them on the shortcrust pastry and cover everything with the second shortcrust pastry. Gently press around each ball to form bubbles using a glass, incise the edges of the pie to create spikes. Bake for 20 minutes at 350°F.
Step 3/3
Melt the milk chocolate, place it in a piping bag and decorate the pie. Sprinkle with crushed hazelnuts, serve with the cocktail and enjoy!