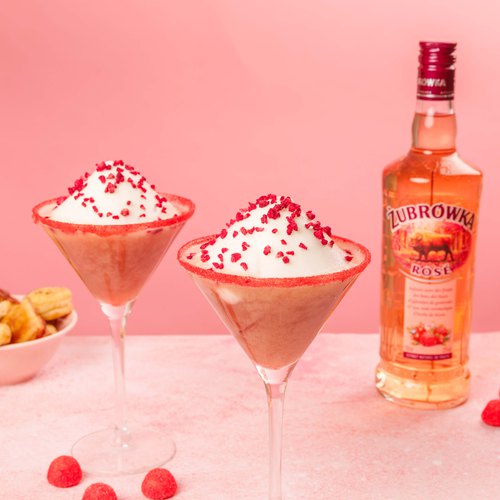 Pink Panther Vodka Tonic
Pink Panther Vodka Tonic! Time to sip something fruity🍸🍓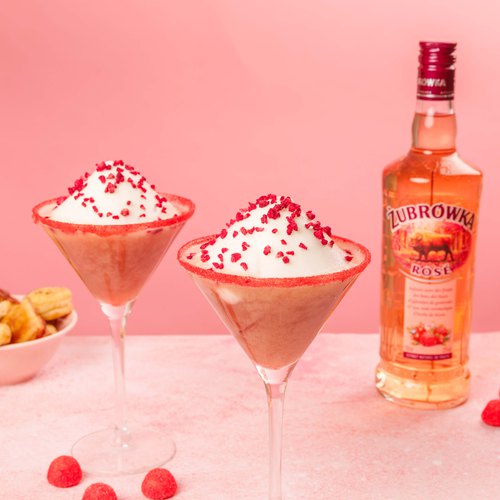 ---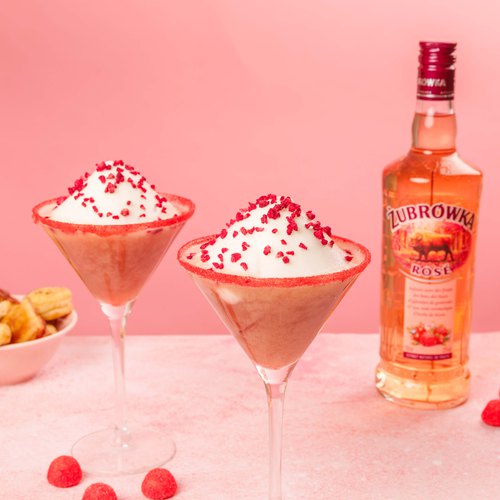 ---
Total time: 40 minutes
Prep time: 40 minutes
Ingredients for 3 people
1 oz of ruby chocolate
0.1 cup of zubrowka rose
4 strawberry candies
0.4 cup of tonic water
0.4 cup of strawberry juice
1/2 cup of egg whites
Sugar
Strawberry syrup
Freeze-dried raspberries
Raspberry powder
---
Tools
Milk frother
---
Step 1/3
Mix the sugar and the raspberry powder then spread the mixture on a plate. Pour the strawberry syrup on a plate, dip the rim of the glasses in the raspberry syrup then in the powdered sugar mixture. Melt the ruby chocolate, dip the milk frother in the melted chocolate then turn it on above the plate to create a decoration. Set the glasses and plate aside.
Step 2/3
Cut the strawberry candies and the raspberries in 2. Leave ⅓ of Zubrowka Rosé, garnish it with the strawberry candies, the raspberries then pour the tonic. Pour the strawberry juice into the glasses, stir with the frother then pour the Zubrowka Rosé and tonic mixture.
Step 3/3
Pour 4 tbsp of Zubrowka Rosé into the egg whites, whip them then pour the mixture into the glasses halfway. Heat the glasses of egg whites for 30 seconds in the microwave, place the domes of egg whites in the cocktails, sprinkle with dried raspberries and enjoy!