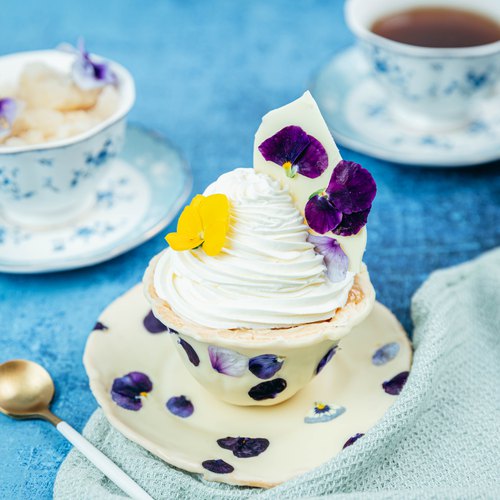 Cocktail Partea
Cocktail Partea! Hey cu-tea, try this recipe 😘🍵🍸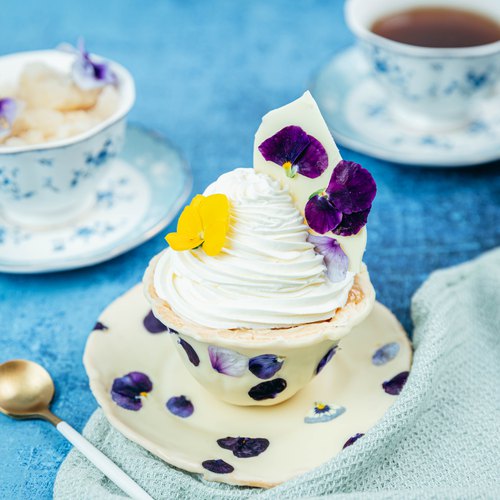 ---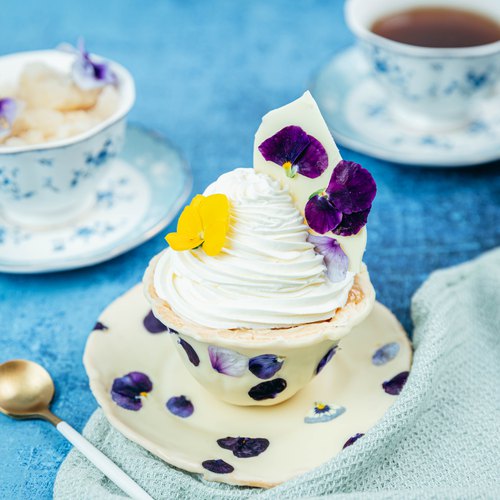 ---
Total time: 55 minutes
Prep time: 40 minutes, Cook time: 15 minutes
Ingredients for 2 people
2 earl grey tea bags
2 tsp of rum
2 tsp of gin
2 tsp of tequila
2 tsp of vodka
Honey
1 shortcrust pastry
3 1/2 oz of white chocolate
2 lemons
0.3 cup of sugar
1 tsp of cornflour
2 egg
0.4 cup of heavy cream
3 1/2 oz of mascarpone
Edible violets
Salt
---
Tools
Piping bag
---
Step 1/3
Melt ⅓ of the white chocolate, pour it onto a baking sheet and add a few flowers. Refrigerate. Form 2 circles in the shortcrust pastry. Line a cup with dough and cover the plate with the second dough circle. Sprinkle them with Earl Gray tea. Bake for 15 minutes at 350°F. Unmold the shortcrust pastry, place the pastry plate and the upturned cup on a wire rack with a container. Melt the white chocolate, cover the plate and the cup, then decorate them with the flowers.
Step 2/3
Grate and squeeze the lemons, put the zest, lemon juice, sugar and cornstflour in a saucepan and heat everything over low heat. Add the beaten eggs and stir with a whisk until thickened. Pour the lemon curd into the cup. Whip the mascarpone and cream, then pipe the cream over the lemon curd.
Step 3/3
Steep the tea in hot water and allow it to cool. Fill a large bowl with ice cubes and place a smaller glass bowl on top. Pour the vodka, gin, rum and tequila, then pour the salt over the ice cubes. Mix the cocktail until you get a granita, pour it into the cup then add a drizzle of honey and the violets. Arrange the granita, the cup of lemon curd and serve with tea. Enjoy!