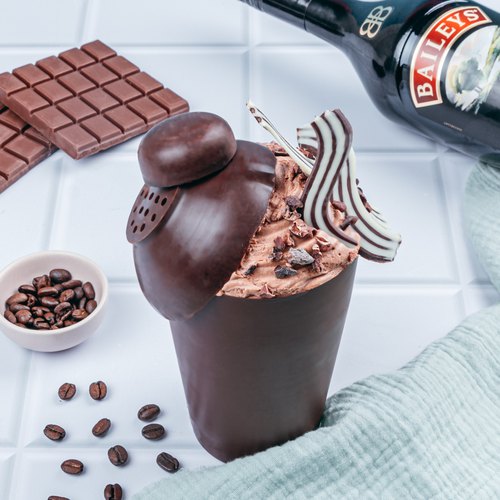 Chocolate Cocktail Shaker
Chocolate Cocktail Shaker! With a kick of Baileys 😆🍫🍸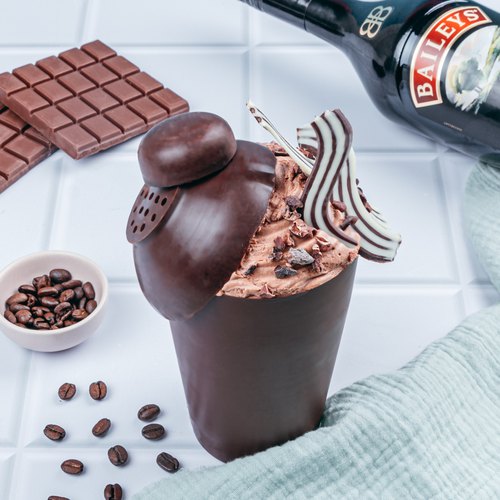 ---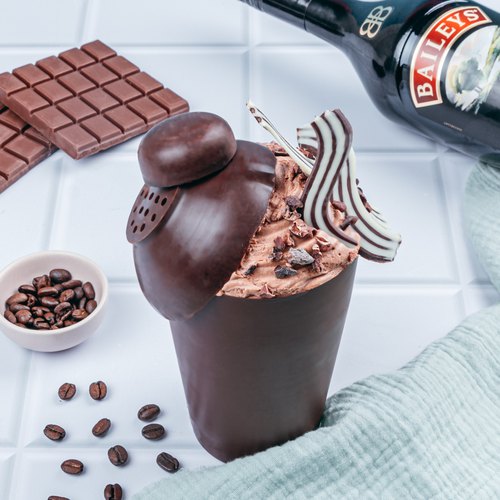 ---
Total time: 2 hours 15 minutes
Prep time: 40 minutes, Rest time: 1 hour 35 minutes
Ingredients for 3 people
12.3 oz of dark chocolate
1 3/4 oz of white chocolate
2 1/2 cups of vodka
1.9 cups of amaretto liqueur
2.3 cups of baileys
4 egg
3 tbsp of heavy cream
2 tbsp of sugar
2 tbsp of cocoa nibs
---
Tools
Cocktail shaker
parchment paper
Piping bag
Electric hand mixer
---
Step 1/4
Before you start, pour water on a baking sheet and place it in the freezer to make a slab of ice. Melt 7 oz of dark chocolate, pour it onto a rectangle of parchment paper and spread it using a spatula, then form waves using a comb. Place the chocolate on the slab of ice and allow to set.
Step 2/4
Pour the remaining melted chocolate into a shaker and turn it to coat the inside before removing the excess chocolate. Mold the lid of the shaker and make holes and the cap of the shaker then put in the freezer for 30 minutes. Melt the white chocolate, pour it over the rectangle of hardened dark chocolate, then spread the melted white chocolate lengthwise with a spatula. Unmold the chocolate decoration from the shaker, break the pieces of white and dark chocolate to obtain waves, then refrigerate everything for 20 minutes.
Step 3/4
Pour 6 shots of vodka and 3 shots of amaretto into the cocktail shaker. Add ice cubes and shake before pouring the cocktail into 3 glasses filled with ice cubes. Add a shot of Baileys to each glass. Crack and place 4 eggs above the lid of the shaker, turn over, lift the lid to separate the yolks from the egg whites, then beat the egg whites until stiff. Melt the remaining dark chocolate, add the sugar and heavy cream. Mix everything and add it to the egg whites with 1 shot of Baileys. Mix everything together and into a piping bag and refrigerate for 45 minutes.
Step 4/4
Take out the chocolate decorations. Fill the chocolate shaker with chocolate mousse. Add the cocoa nibs, place the waves and the chocolate lid on the mousse. Serve with the cocktail and enjoy!