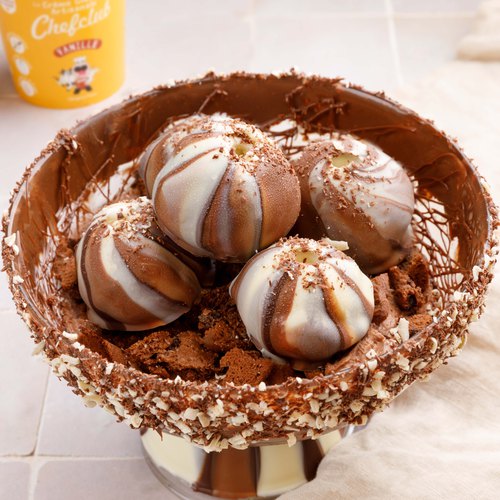 Triple Chocolate Mousse
Triple Chocolate Mousse! Chocolate lovers, this recipe is made for you 🍫🤤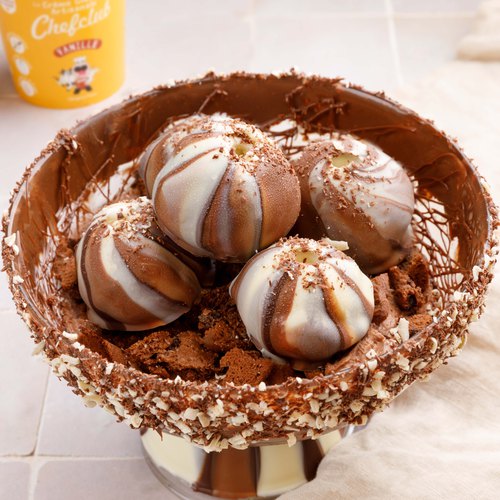 ---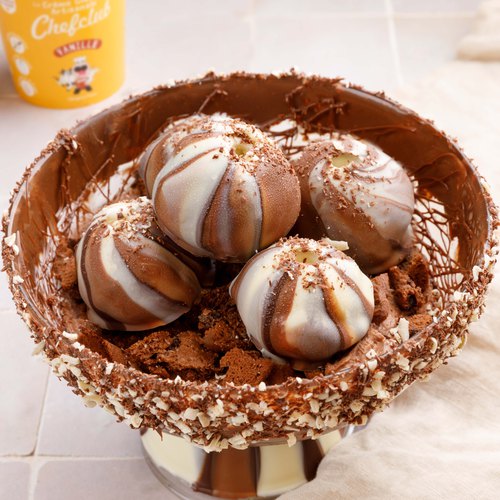 ---
Total time: 5 hours 5 minutes
Prep time: 35 minutes, Rest time: 4 hours 30 minutes
Ingredients for 6 people
9 oz of milk chocolate
2 1/2 cups of heavy cream
9 oz of dark chocolate
16 oz of white chocolate
1 jar of chocolate hazelnut spread
10 chocolate cookies
1 pint of vanilla ice cream
---
Tools
Ice cream scoop
Popsicle sticks
Electric hand mixer
Pipette
---
Step 1/5
Melt 7 oz of milk chocolate, heat the heavy cream. Add the melted chocolate to the heavy cream. Allow to rest for 4 hours then beat the ganache with an electric mixer.
Step 2/5
Grate 5.2 oz of white chocolate, dark chocolate and milk chocolate and reserve the shavings on a plate. Put an empty bowl in the freezer. Melt the remaining dark chocolate, white chocolate and milk chocolate then place each in a pipette. Draw lines in white, milk and dark chocolate until you fill the bowl. Dip the outside of the bowl from the fridge in the 3-chocolate bowl. Place the bowl upside down and place a bowl on top then press in the center to seal the 2 bowls together. Set aside the bowl with the 3 chocolates.
Step 3/5
Fill a pipette with the spread and make lines in a circular manner by turning the bowl to obtain a pattern on the sides. Add the spread on the outer edges of the bowl and scrape off the excess with a tablespoon. Roll the edges with the spread in the 3 chocolate shavings. Place the chocolate ganache inside the bowl, sprinkle with pieces of chocolate cookie. Refrigerate.
Step 4/5
Make 5 scoops of vanilla ice cream. Stick 1 popsicle stick in each scoop then dip them in the 3-chocolate bowl, turning to have a pattern on each scopp. Place the scoops of ice cream on a plate and refrigerate for 30 minutes.
Step 5/5
Place the scoops of ice cream on the pieces of cookie, remove the popsicle sticks, sprinkle with chocolate shavings and enjoy!