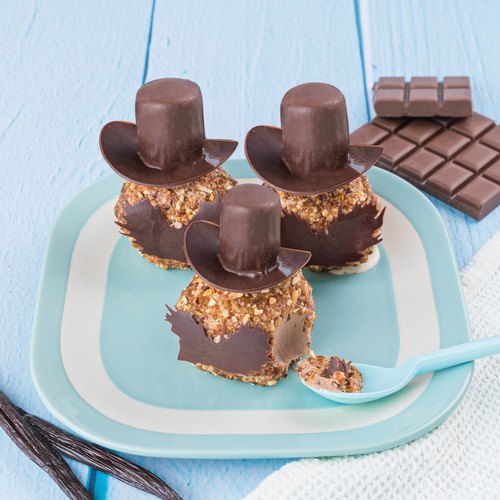 Hats Off Chocolate Mousse
Hats Off Chocolate Mousse! With a fun and edible mustache 👨🎩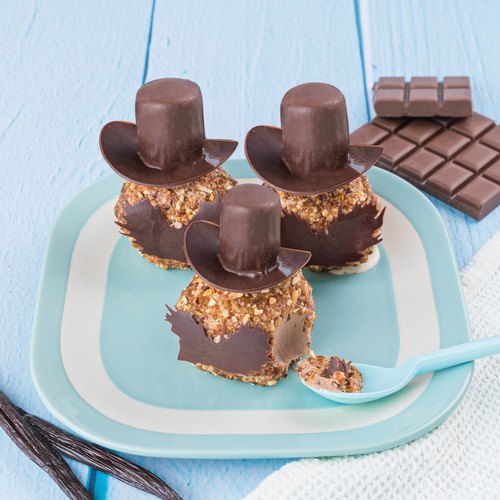 ---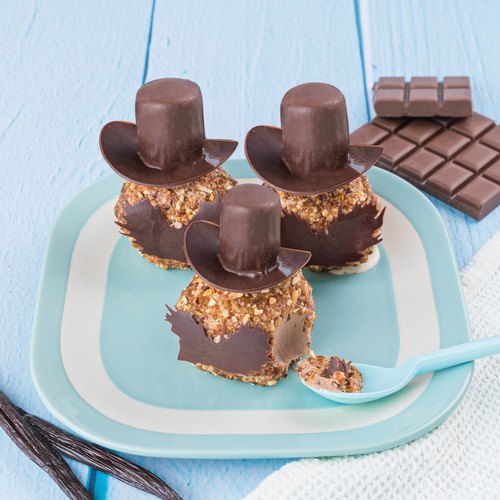 ---
Total time: 1 hour 25 minutes
Prep time: 35 minutes, Rest time: 50 minutes
Ingredients for 3 people
3 1/2 oz of milk chocolate
3 1/2 oz of dark chocolate
3/5 cup of heavy cream
1/2 cup of chefclub vanilla ice cream
1/4 cup of hazelnut praline
---
Tools
Plastic sheet protector
Skewers
Wine corks
Piping bag
Cling wrap
Melon baller
---
Step 1/3
Cut the end of the sheet protector and open it. Melt the dark chocolate and pour 3 dots of chocolate onto the sheet protector. Fold the sheet protector over and press the dots to form chocolate circles. Arrange 3 small dots of melted chocolate on a plate, stretch the chocolate dots on each side using a skewer to form mustaches. Wrap the corks in cling wrap and dip ¾ of the corks in the melted dark chocolate. Place them in ice water to set the chocolate. Place the chocolate circles in a glass to obtain a rounded shape. Refrigerate the chocolate mustaches and chocolate circles for 20 minutes.
Step 2/3
Melt the milk chocolate. Whip the melted milk chocolate and heavy cream into a ganache. Place in a piping bag and set aside. Line 6 cups with cling film and pipe the ganache into the lined cups. Scoop 3 small balls of Chefclub vanilla ice cream using a melon baller. Place the scoops of ice cream in the center of 3 cups filled with ganache and cover with the other cups of ganache to form 3 spheres. Reserve 30 minutes in the freezer.
Step 3/3
Unmold the chocolate from the corks. Sprinkle the chocolate ganache spheres with praline. Place a dot of chocolate ganache at the end of the spheres and place the rounded circles on top. Fill the small chocolate pots with ganache and place them on the rounded chocolate circles to form a hat. Place a dot of ganache on the sphere and place the chocolate mustaches. Serve and enjoy!