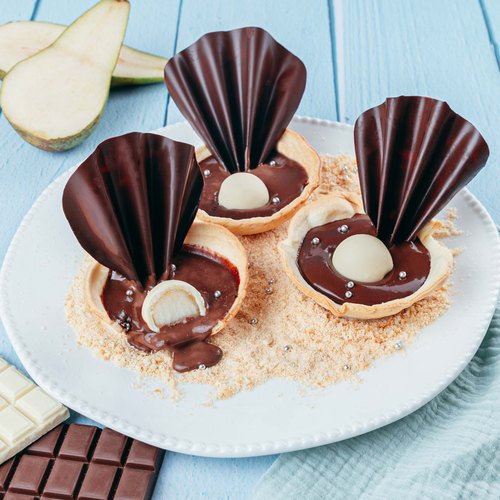 Seaside Pear Pie
Seaside Pear Pie! Go hunting for delicious seashells 😋🐚🍐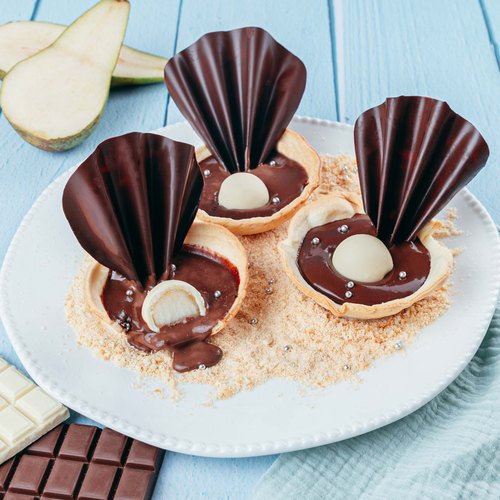 ---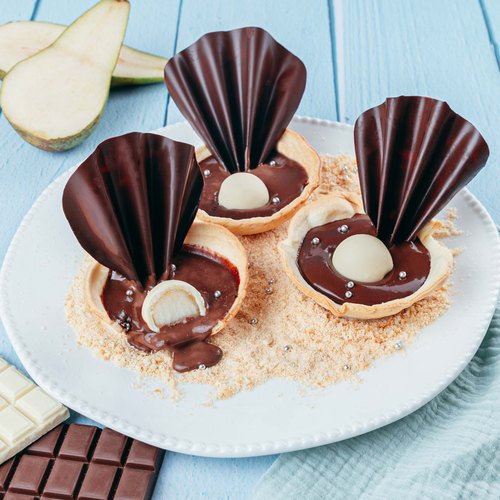 ---
Total time: 2 hours 30 minutes
Prep time: 40 minutes, Cook time: 20 minutes, Rest time: 1 hour 30 minutes
Ingredients for 3 people
2 pears
7 oz of white chocolate
3 1/2 oz of dark chocolate
1 3/4 oz of milk chocolate
4/5 cup of heavy cream
Butter
1 pie dough
Silver sugar pearls
---
Tools
Cardboard box
Plastic sheet protector
Tongs
parchment paper
Melon baller
Skewers
---
Step 1/4
Fold the cardboard like an accordion & cut a plastic sheet protector into 3 parts. Melt 2½ oz of dark chocolate and pour the melted chocolate over the plastic sheet protectors. Stack the cardboard and the plastic sheet protectors with the melted chocolate. Pinch the end to form a fan shape (using tongs). Repeat the process to make 3 and refrigerate for 30 minutes.
Step 2/4
Cut out 3 circles in a the dough. Prick the center of the dough circles and pinch one end. Cut off the excess dough and place them on upturned cups. Place the cups with the dough on a baking tray lined with parchment paper. Add the excess dough to the tray and bake for 20 minutes at 350°F.
Step 3/4
Melt the white chocolate. Cut 3 circles in the pear using a melon baller. Insert a skewer in each pear circle and coat the pear circles with melted white chocolate. Set aside to cool. Cut the rest of the pear into small pieces, cook them in a hot pan with the butter and sugar to obtain a pear compote.
Step 4/4
Melt the rest of the dark chocolate and the milk chocolate. Heat the heavy cream and add to the melted chocolates. Mix until smooth to create a chocolate ganache. Unmold the pie crust shells from the cups. Grate the excess pie crust on the plate to form the sand. Place the pie crust shells and garnish them with the pear compote and the chocolate ganache. Refrigerate for 1 hour. Place a pear ball coated in white chocolate in each shell. Place the silver sugar pearls and arrange the chocolate fans vertically. Enjoy!