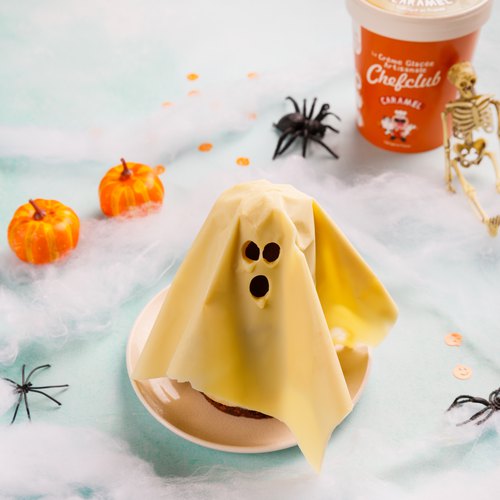 Dessert Ghosts
Dessert Ghosts! A blood-curdling Halloween snack 👻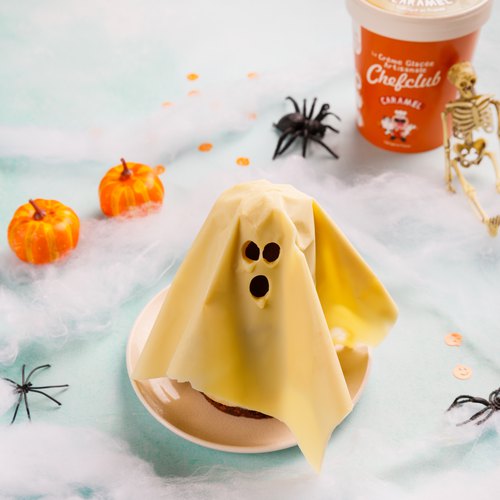 ---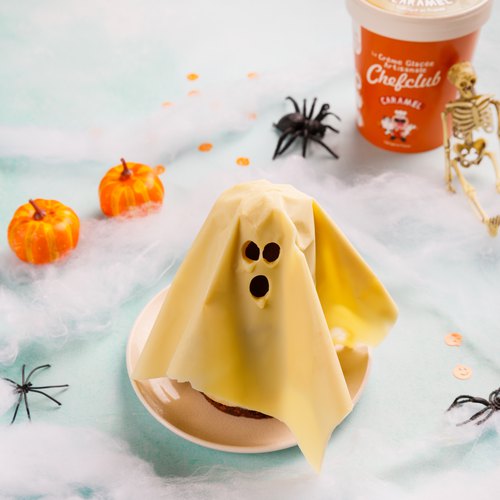 ---
Total time: 2 hours 15 minutes
Prep time: 35 minutes, Rest time: 1 hour 40 minutes
Ingredients for 3 people
7 oz of white chocolate
3 egg
3 pears
1 cup of sugar
2 oz of mascarpone
2 tsp of powdered sugar
0.4 cup of heavy cream
2 tbsp of cacao powder
3 1/2 oz of dark chocolate
10 speculoos cookies
1 chefclub caramel ice cream
---
Tools
parchment paper
Plastic bottles
Cling wrap
Peeler
---
Step 1/4
Melt the white chocolate. Cut 3 squares of parchment paper, pour and spread the melted white chocolate on top then allow to set. Place the bottles on the work surface. Wrap the eggs in cling wrap and balance them on the necks of the bottles. Place the white chocolate baking sheets over the eggs. Place the bottles on a sheet parchment paper and refrigerate for 30 minutes.
Step 2/4
Remove the parchment paper from the white chocolate. Heat the peeler with a lighter then make the faces of the ghosts. Bring 4 cups of water to a boil. Peel the pears, empty them from below then poach them in boiling water for a few minutes. Add the sugar to the water. Chill the pears for 10 minutes.
Step 3/4
Whip the mascarpone, the powdered sugar, the liquid cream and the cacao powder. Place the pears on a grill with a plate underneat. Garnish the pears with cocoa whipped cream. Melt the dark chocolate then pour it over the pears. Refrigerates for 30 minutes.
Step 4/4
Cut the underside and the top of the bottles to make a mold. Crush the speculoos, pour melted dark chocolate on top then mix. Place the mixture at the base of the plastic molds and flatten. Place 2 scoops of Chefclub caramel ice cream then flatten. Reserve 30 minutes in the freezer. Remove the plastic molds, and add the chocolate pears. Place each ghost on top of the pears and enjoy!