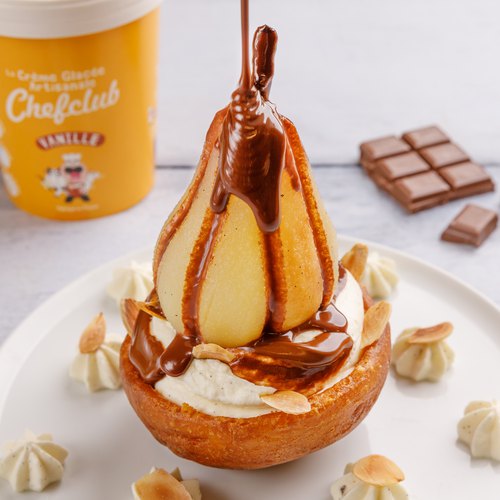 Pear & Ice Cream Tarts
Pear & Ice Cream Tarts! A dessert that's classy 🍫🍨🍐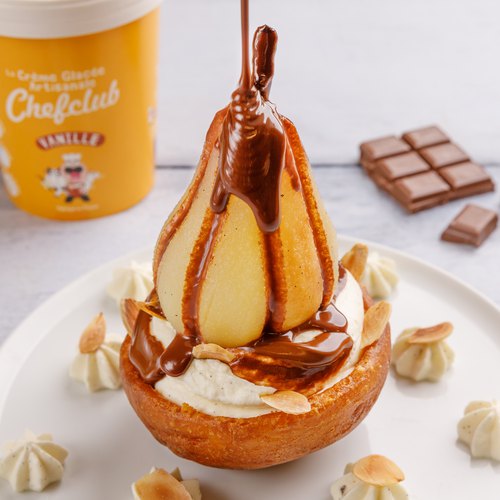 ---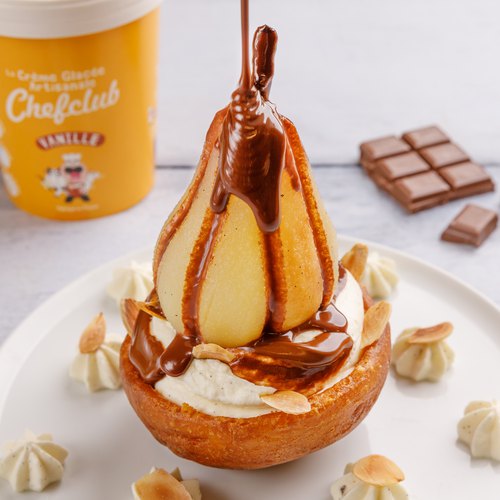 ---
Total time: 1 hour
Prep time: 30 minutes, Rest time: 30 minutes
Ingredients for 3 people
2 egg
4 tbsp of egg
1 1/2 cups of flour
2 tbsp of baking powder
1 3/4 oz of mascarpone
0.4 cup of heavy cream
2 tbsp of powdered sugar
2 vanilla beans
1 pint of vanilla ice cream
7 oz of dark chocolate
3 pears
1 cup of sugar
Sliced almonds
Oil
---
Step 1/4
Mix the eggs, milk, , flour and 4 tbsp of sugar until you obtain a smooth dough then refrigerate for 30 minutes.
Step 2/4
Place the batter in a ladle, press down with a second ladle to form a bowl and then plunge into the hot oil. Remove the ladles then cook the inside of the bowl. Repeat the process 2 times.
Step 3/4
Whisk the mascarpone, some of the heavy cream, powdered sugar and ¼ vanilla bean. Place a scoop of Chefclub vanilla ice cream in each bowl. Cover the ball with whipped cream. Heat the rest of the heavy cream, melt the dark chocolate and mix with the hot heavy cream. Pour half of the sauce over the bowls to form a pattern.
Step 4/4
Peel the pears using a peeler, empty the inside of the pears then form slices at regular intervals with the side of the peeler. Heat water over low heat with the rest of the sugar and a vanilla bean. Poach the pears in the vanilla and sugar syrup for a few minutes. Gently place the pears on the bowls of whipped cream, pour the rest of the chocolate sauce on top, sprinkle with almonds and enjoy!