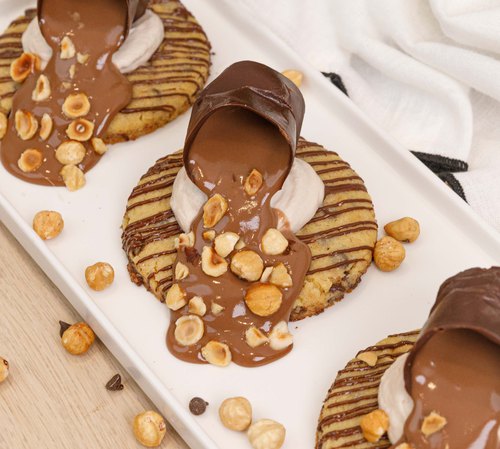 Gooey Chocolate Cookie
Gooey Chocolate Cookie! This is a batch made in heaven 😚🍪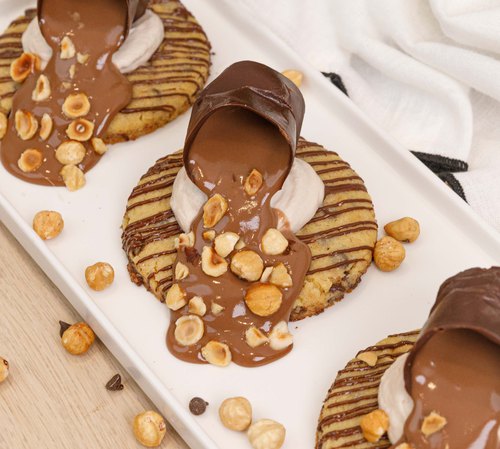 ---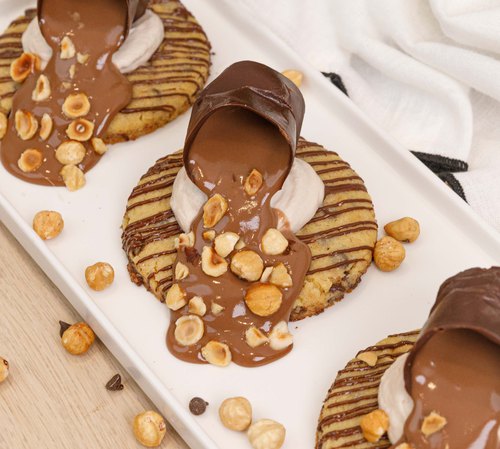 ---
Total time: 1 hour 25 minutes
Prep time: 40 minutes, Cook time: 15 minutes, Rest time: 30 minutes
Ingredients for 6 people
1 cup of butter
1 1/4 cups of sugar
1 egg
3 cups of flour
3 1/2 tbsp of baking powder
10 oz of chocolate chips
4/5 cup of heavy cream
7 oz of dark chocolate
1 cup of hazelnuts
3 1/2 oz of mascarpone
4 tbsp of powdered sugar
6 chocolate pudding
---
Tools
Electric hand mixer
parchment paper
---
Step 1/4
Mix the butter, the sugar, the egg until obtaining a smooth mixture. Add the flour, the baking powder, the chocolate chips then mix to obtain a dough. Form a ball of dough and set it aside.
Step 2/4
Whip the mascarpone, heavy cream and powdered sugar using an electric whisk. Empty the chocolate pudding cups, rinse the cups, add 2 tablespoons to the whipped cream then mix. Set aside. Melt the dark chocolate, pour it into the empty dessert cups, spread it on the inside of the jars then pour the excess chocolate into a bowl. Reserve the cups for 30 minutes in the fridge.
Step 3/4
Hollow out the center of the cookie dough, sprinkle the space with crushed hazelnuts then cover them with the cookie dough. Cut the cookie dough sausage into 6 parts, form 6 balls, place them on a baking sheet then bake for 15 minutes at 350°F.
Step 4/4
Form a cone with parchment paper. Pour the rest of the melted dark chocolate into the cone then pour lines of melted chocolate over the cookies. Place the cookies on a plate, pipe a dot of chocolate whipped cream in the center of the cookies, unmold the chocolate cups from their packaging, garnish them with milk chocolate cream then place them horizontally on the cookies. Sprinkle the crushed hazelnuts over the milk chocolate cream and enjoy!