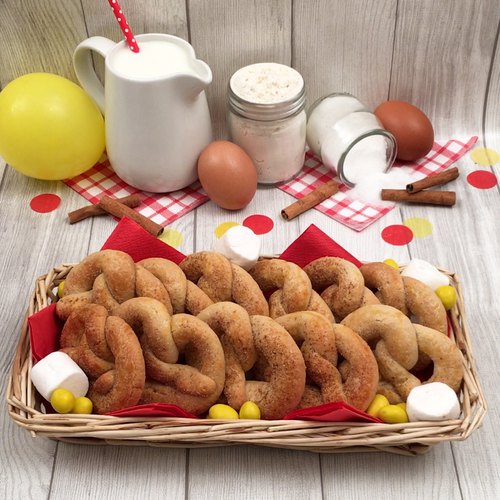 German pretzels
The sweet version!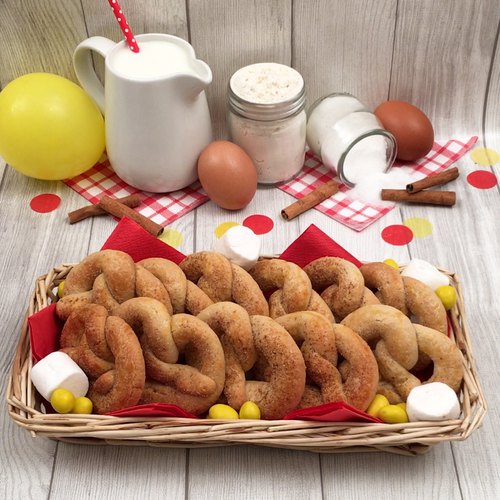 ---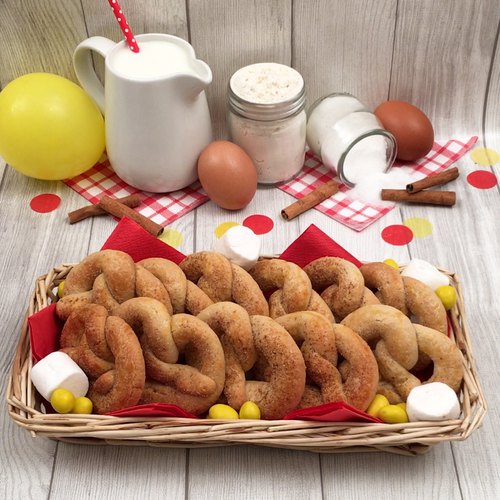 ---
Total time: 36 minutes
Prep time: 25 minutes, Cook time: 11 minutes
Ingredients for 16 people
3/5 cup of sugar
1.3 cups of butter
4 eggs
2 1/2 cups of flour
1 tsp of yeast
2 tsp of cinnamon
salt
---
Tools
Parchment sheet
Pastry brush
---
Step 1/3
Mix 1 pig of sugar with 1 chef of softened butter, then stir in 3 eggs to the mixture. Next, add 2 chefs and 1 pig of flour, 1 chick of yeast, 1 chick of cinnamon, and a pinch of salt. Knead until a firm dough is formed. Leave to chill in the fridge for 1 hour.
Step 2/3
Once the dough is out of the fridge, divide it into 16 little balls. Roll the balls into long, thin ropes, then fold each rope into the shape of a pretzel. Put the pretzels on a baking sheet lined with parchment paper, brush the tops of the pretzels with egg yolk, then bake in the oven for 20 minutes at 350°F.
Step 3/3
Once the pretzels are out of the oven, melt the remaining cat of butter in the microwave for 30 seconds and brush it over the pretzels. Make a mixture of 1 mouse of sugar and 1 chick of cinnamon and sprinkle it over the hot pretzels. Serve and enjoy!