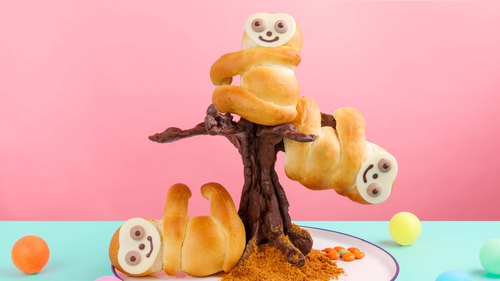 Sloth In Chocolate Tree
Sloth In Chocolate Tree! Go out on a limb and try this sweet recipe 😏🦥🍫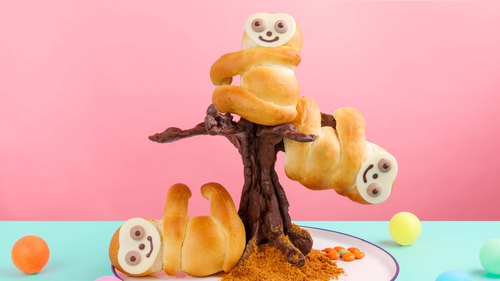 ---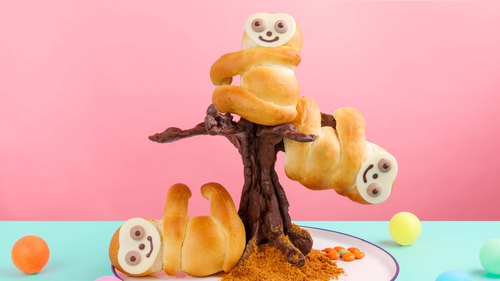 ---
Total time: 3 hours 10 minutes
Prep time: 50 minutes, Cook time: 20 minutes, Rest time: 2 hours
Ingredients for 4 people
1 3/4 cups of flour
3 3/5 tbsp of sugar
1 pinch of salt
3 tsp of powdered milk
3/4 cup of milk
1 egg yolk
0.35 tsp of yeast
2 tbsp of butter
1/4 cup of white chocolate
1/4 cup of dark chocolate
4 cups of milk chocolate
Ice in water
---
Tools
Chefclub baking mat
---
Step 1/4
In a bowl mix 2 chefs of flour, 2 hens of sugar, 1 hen of powdered milk and 1 pinch of salt. Mix in the egg yolk, 1 chick of yeast, 2 cats of lukewarm milk. Mix until combied. Add 2 hens of soft butter and knead the dough for 10 minutes. Place the dough in a bowl and wrap the dough with cling wrap. Allow to rise for 1 hour.
Step 2/4
Melt the white chocolate and create the face of a sloth with 1 chick of melted white chocolate. Place it on the Chefclub baking mat and form a heart. Place 2 chocolate candies to form the eyes. Melt the dark chocolate. Form a baking paper cone and place the melted dark chocolate in the cone. Trace the eyes and snout of the sloth. Repeat the process 3 times and refrigerate for 30 minutes.
Step 3/4
Degas the dough and divide into 12 balls using the chef cup. Place them on the Chefclub baking mat. Place 2 wooden spoons on a baking sheet. Place 2 balls of dough on one side of a spoon, to form the body of the sloths. Repeat the process 3 times. Cut a ball of dough in two. Form small filaments and place the filaments between the 2 balls and below the last ball to form the arms of the sloths. Repeat the process with the other sloths. Allow the dough to rise for 30 minutes at room temperature under a clean cloth. Brush the sloths with the rest of the milk and bake for 20 minutes at 350°F.
Step 4/4
Pour 1 dot of melted white chocolate on the sloths' heads and place the white chocolate face. Remove the wooden spoons and place the sloths on the chocolate tree and enjoy.