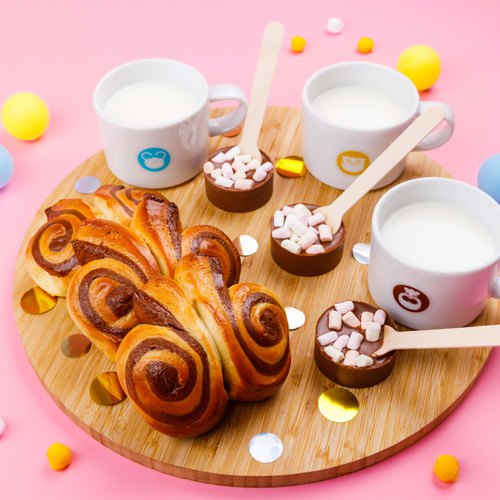 Chocolate Butterfly Sticky Bun
Chocolate Butterfly Sticky Bun! Not going to lie, this sweet recipe is pretty fly 😏🦋🍫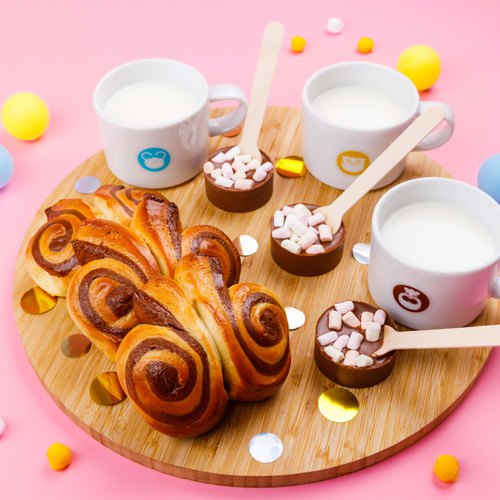 ---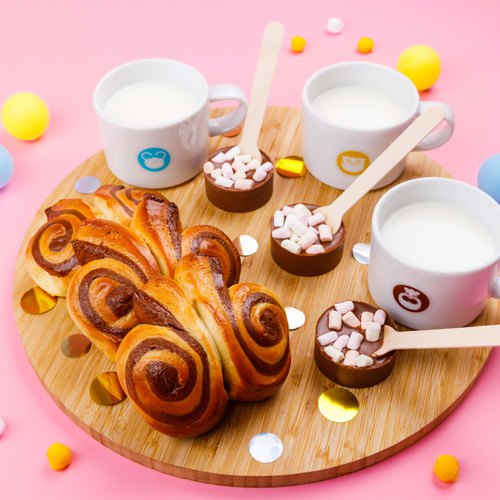 ---
Total time: 4 hours 35 minutes
Prep time: 40 minutes, Cook time: 25 minutes, Rest time: 3 hours 30 minutes
Ingredients for 3 people
4 3/4 cups of milk
2 tbsp of yeast
1 3/4 cups of flour
6 tbsp of sugar
1 pinch of salt
1 egg
4 tbsp of butter
1 tbsp of cocoa powder
1/4 cup of mini marshmallows
1.3 cups of milk chocolate
---
Tools
Cling wrap
Chefclub rolling pin
Chefclub baking mat
---
Step 1/4
In a bowl mix 2 mice of warm milk and1 chick of yeast. Set aside. Place 2 chefs of flour on the work surface and form a well in the center of the flour. Add 1 mouse of sugar, 1 pinch of salt and the milk mixture. Mix by hand. Add the eggs and mix until you obtain a smooth dough. Add 1 mouse of butter into the dough then knead the dough once more.
Step 2/4
Form a sausage with the dough, cut ⅓ of the dough and set it aside. Place most of the dough in a bowl and cover the dough with cling wrap. Add 1 hen of cocoa to the small ball of dough and mix until combined. Form a ball. Place the cocoa dough in a bowl and cover it with cling wrap. Set it aside to let it rise for 30 minutes. Degas the doughs and set aside for 1 hour in the fridge. Roll out the doughs with the Chefclub rolling pin and the 0.1 inch rings. Place the cocoa dough on the plain dough then roll the dough on themselves (without going all the way).
Step 3/4
Cut the roll of dough into 3 parts. Cut each part in 2 and place them horizontally. Join the 2 parts. Press lightly on the sides of the roll to form a butterfly then place the butterflies on the Chefclub baking mat. Place 1 hen of sugar in 1 mouse of water. Heat the mouse of water and sugar for 30 seconds in the microwave. Brush the butterflies with the syrup. Bake for 25 minutes at 350°F.
Step 4/4
Cut 1 mouse of milk chocolate to form shavings. Heat the chocolate mouse 3x30 seconds in the microwave. Sprinkle the mini marshmallows in the melted chocolate mouse. Plant a fork into the chocolate and refrigerate for 2 hours. Repeat this process twice. Brush the butterflies again with syrup. Unmold the chocolate from the mouse cup by dipping it in 1 chef of lukewarm water. Place the butterflies on a plate with the chocolate and marshmallows. Heat 4 chefs of milk and pour the milk into 3 cups. Enjoy!