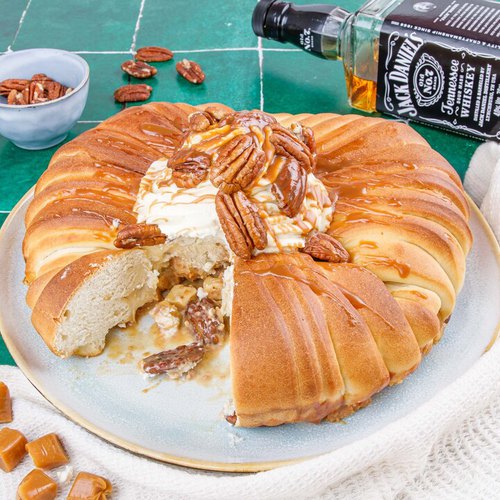 Whiskey & Caramel Sticky Buns
Whiskey & Caramel Sticky Buns! The boozy dessert you deserve 😉🥃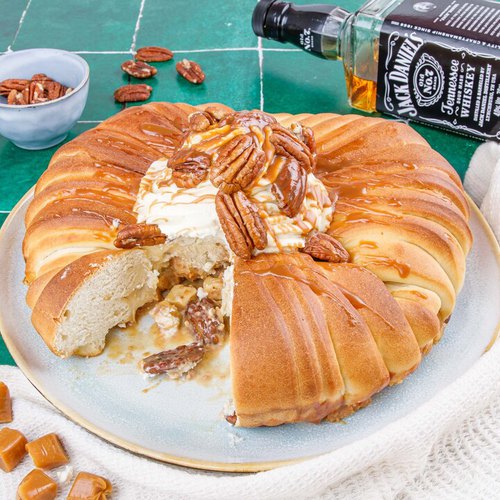 ---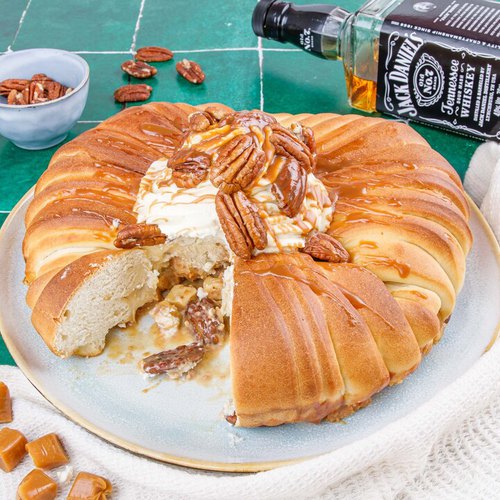 ---
Total time: 1 hour 30 minutes
Prep time: 20 minutes, Cook time: 40 minutes, Rest time: 30 minutes
Ingredients for 8 people
1/2 cup of milk
1/2 cup of sugar
2 tsp of yeast
2 egg
2 cups of flour
1 tsp of salt
9 tbsp of butter
1 apple
1/2 cup of pecans
1 bag of soft caramels
750 ml of jack daniel's
1 bag of werther's original hard caramels
1 cup of heavy cream
1 cream cheese
3 tbsp of caramel sauce
---
Tools
Mason jar
Hand mixer
Piping bag with star tip
---
Step 1/3
In a mixing bowl, stir together the milk, sugar and yeast. When yeast is foamy add in the eggs, flour and salt. Knead together then add 7 tbsp of butter. Continue to knead the dough until all the butter is incorporated. Divide the dough into 3 equal balls and allow to rest for 30 minutes. The dough can also be made the night before and kept in the refrigerator.
Step 2/3
Prepare a large round glass pyrex baking dish with the soft caramels, chopped apples and pecans. Pour 2 tbsp of melted butter over the caramels, apples and pecans. Scoop 3 balls of cream cheese into small bowls lined with plastic wrap and filled with tiny diced apples, crushed hard caramels and chopped pecans. Set aside. Roll out one ball of dough into a large circle, cut the dough in half then cut one half into two pieces one slightly larger than the other. Cut the second half of the dough in halves. One quarter of the dough, cut into 1/3 and 2/3 then the last quarter of dough into 2 triangles; one roughly larger than the other. Brush with cold water and begin stacking the dough in order from largest to smallest. Flip the dough over and place one ball of cream cheese, pinch the dough closed and place into the baking dish. Continue with the other 2 balls of dough. Allow the dough to proof for 20 minutes. Preheat the oven to 350°F and bake the brioche croissants for 25-30 minutes until golden brown.
Step 3/3
In a large clean mason jar, add the contents of one bag of werther's originals (unwrapped of course). Pour the Jack Daniels over the caramels. Close the lid on the jar and give it a good shake. This should be made ideally a few days ahead. Whip together the heavy cream and 1oz. of caramel whiskey until stiff peaks. Fill the piping bag. Decorate the brioche with the whiskey whipped cream, pecans and caramel sauce. Enjoy!