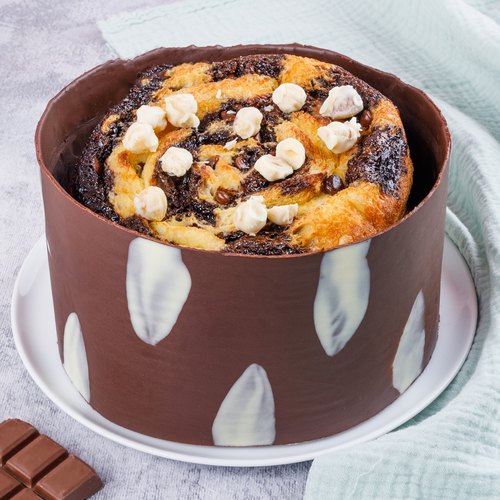 Spotted Chocolate Brioche & Ice Cream
Spotted Chocolate Brioche & Ice Cream! A surprising new treat just for you 😉🍨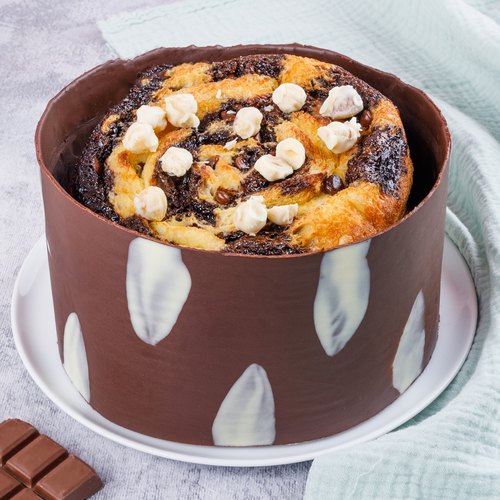 ---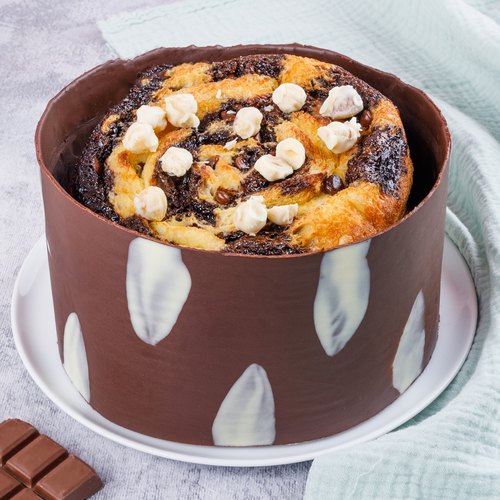 ---
Total time: 55 minutes
Cook time: 25 minutes, Rest time: 30 minutes
Ingredients for 6 people
1 brioche
Milk
3 1/2 oz of mascarpone
1/2 cup of sugar
4 egg
3 1/2 oz of chocolate chips
0.7 cup of vanilla ice cream
3 1/2 oz of white chocolate
5.3 oz of dark chocolate
1 cup of heavy cream
1/2 cup of cacao powder
---
Tools
parchment paper
---
Step 1/3
Cut the brioche in 3; then cut into strips. Pour the chocolate chips over the strips and shape int a spiral. Place in mold. Mix milk, sugar and eggs. Pour over the brioche and bake 25 minutes at 350°F.
Step 2/3
On a strip of parchment paper; add white chocolate stripes. Allow to set and pour the dark chocolate over the strip. Place around cake mold and chill for 30 minutes.
Step 3/3
Stack the brioche spirals. Mix cacao powder and heavy cream to make a whipped cream. Pipe the whipped cream and add a slice of vanilla ice cream between the layers. Add the chocolate decoration around the brioche. Serve and enjoy!