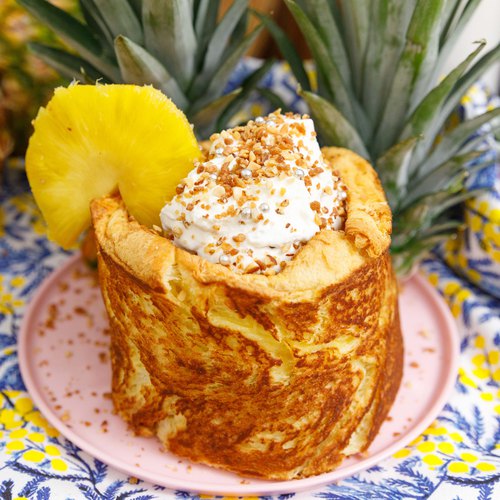 Tropical Pineapple Brioche
Tropical Pineapple Brioche! This dessert sure is looking pine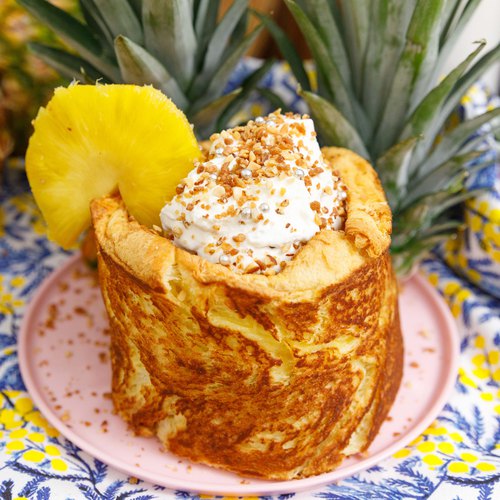 ---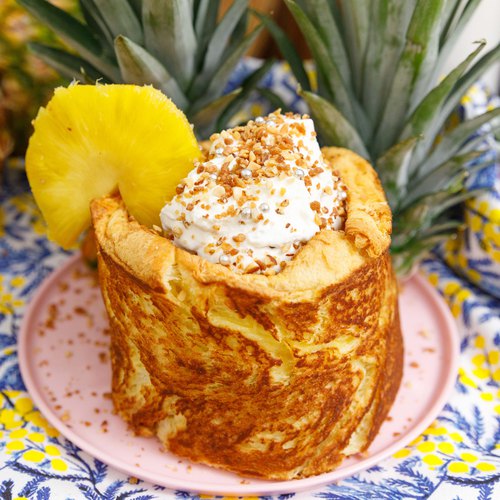 ---
Total time: 1 hour
Prep time: 40 minutes, Cook time: 20 minutes
Ingredients for 3 people
1 pineapple
2 egg
4/5 cup of milk
1 pinch of salt
3 1/2 oz of salted caramel sauce
1 brioche
4/5 cup of heavy cream
2 oz of mascarpone
3 tsp of powdered sugar
2 oz of hazelnuts
Sugar pearls
---
Tools
Piping bag
---
Step 1/3
Start by removing the crown of the pineapple, use a fruit cutter to hollow out the fruit, and cut 3 of the slices into smaller pieces. Take the remaining slices and put them on a grill. Next, cook the pineapple pieces on a griddle and place the grill with the slices on top. Then, generously drizzle the slices with salted caramel sauce and set them aside. Finally, cook the pineapple pieces on the griddle with the remaining caramel sauce before also setting them aside.
Step 2/3
Cut the brioche in half lengthwise. Mix the milk, eggs, and salt until you get a smooth mixture. Pour the French toast batter onto the bottom half of the brioche, roll the brioche around a vase, then cook the brioche on a buttered griddle with back-and-forth movements. Place the brioche vertically on the grill with the pineapple slices, then bake for 20 minutes at 350 °F.
Step 3/3
Whip the heavy cream, mascarpone, and powdered sugar until stiff peaks form, then place the whipped cream in a piping bag. Place the pineapple slices and caramelized pineapple pieces in the center of the brioche, pipe the whipped cream on top, and sprinkle with crushed hazelnuts. Place a slice of pineapple on top of the brioche slice, sprinkle with sugar pearls, and enjoy!