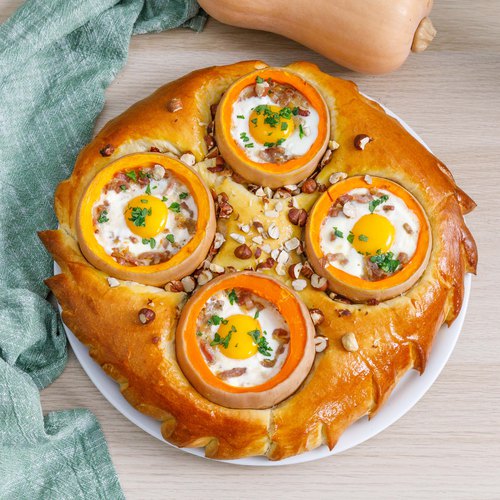 Beautiful Butternut Brioche
Beautiful Butternut Brioche! You butternut forget to try this recipe 🤩😋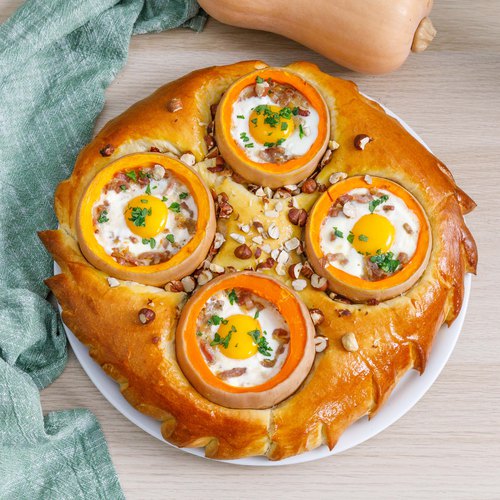 ---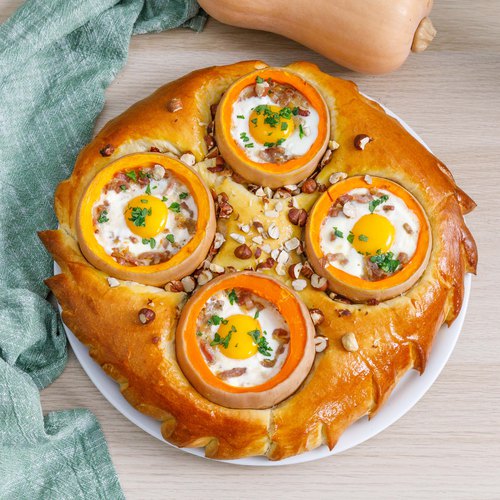 ---
Total time: 3 hours 25 minutes
Prep time: 45 minutes, Cook time: 40 minutes, Rest time: 2 hours
Ingredients for 4 people
4 cups of flour
7 egg
3 tbsp of sugar
5 tsp of salt
3 tsp of yeast
3/5 cup of milk
2 tbsp of butter
2 butternut squashes
4 tbsp of heavy cream
3 1/2 oz of bacon
1 onion
1 egg yolk
Parsley
Hazelnuts
---
Tools
parchment paper
Cling wrap
Ice cream scoop
---
Step 1/3
In a bowl, mix the flour, 3 eggs, salt, yeast, sugar, milk and butter. Place the dough on a baking tray lined with parchment paper, cover with cling wrap and let rise for 2 hours.
Step 2/3
Cook the pumpkins in 1 liter of boiling water, drain and cut into 3 parts. Reserve the ends and remove the flesh with the help of an ice cream spoon. Make 4 hollows in the brioche dough using one end of the squash and cut around the dough with scissors to make a pattern. Insert the pumpkin in the 4 holes of the dough and bake for 20 minutes at 350°F.
Step 3/3
Mash the rest of the squash to make a puree, cut the onion into pieces and saute the bacon and onions in a pan. Stuff the squash with the puree, 1 tbsp heavy cream, 1 tbsp grilled onion, bacon bits and add 1 egg to each squash. Brush the brioche dough with egg yolk, sprinkle with crushed hazelnuts and bake for 20 minutes at 350°F. Sprinkle the bread with parsley and enjoy!