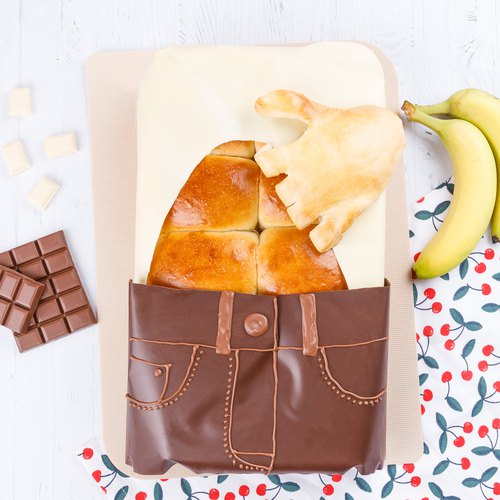 Hot Damn Chocolate Abs
Hot Damn Chocolate Abs! You will abs-solutely love this sweet treat 😘 🍫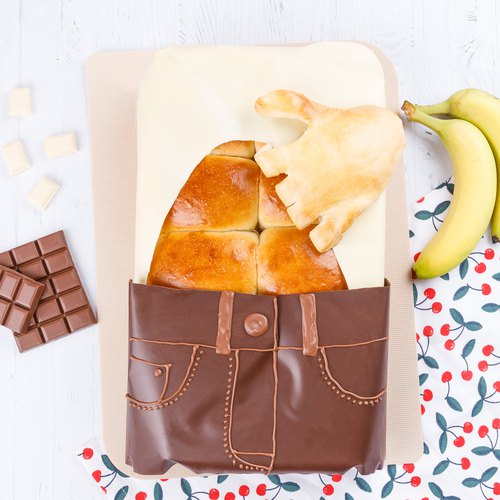 ---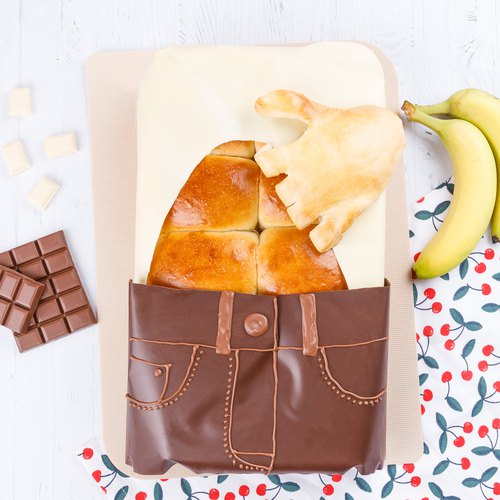 ---
Total time: 4 hours 55 minutes
Prep time: 45 minutes, Cook time: 40 minutes, Rest time: 3 hours 30 minutes
Ingredients for 6 people
7 cups of flour
2.1 cups of milk
3 tsp of yeast
Salt
4 1/2 tbsp of butter
1 pizza dough
1 egg yolk
9 oz of dark chocolate
3 bananas
10 1/2 oz of white chocolate
2 oz of milk chocolate
---
Tools
parchment paper
---
Step 1/4
Mix the flour, lukewarm milk, yeast, salt, soft butter in a mixer to obtain a bread dough. Allow the dough to rise for 2 hours at room temperature. Place the pizza dough on the parchment paper, trace the outline of a hand. Place 2 wooden spoons perpendicularly on a plate covered with parchment paper, place the hand of pizza dough on the corner, wrap your fingers around the handle of a spoon. Brush the bread dough hand with egg yolk and bake for 15 minutes at 350°F.
Step 2/4
Form 10 balls of bread dough on the work surface and place 2 squares of chocolate on each dough. Press the sides of a ripe banana, cut off the end and press to push out the inside of the banana and place it on each bread dough. Enclose the chocolate and the banana in the balls of dough. Place the balls of dough in a rectangular dish, place a clean kitchen towel on top and allow to rise for 30 minutes at room temperature.
Step 3/4
Brush the dough balls with egg yolk and bake for 25 minutes at 350°F. Melt the rest of the dark chocolate, pour it onto a rectangle of parchment paper and spread it out. Arrange the rectangle in a dish, place a spoon underneath to raise it and refrigerate it for 30 minutes. Cut a sheet of parchment paper in the shape of an arch and repeat the process with the white chocolate and refrigerate for 30 minutes.
Step 4/4
Form a parchment paper cone, melt the milk chocolate, then pour it into the cone. Trace a milk chocolate decoration on the chocolate shell to form the top of the pants and refrigerate for 30 minutes. Place the milk bread brioche on the work surface, place the white chocolate t-shirt and the dark chocolate pants on the brioche. Place the hand of bread dough on the end of the white chocolate then enjoy!