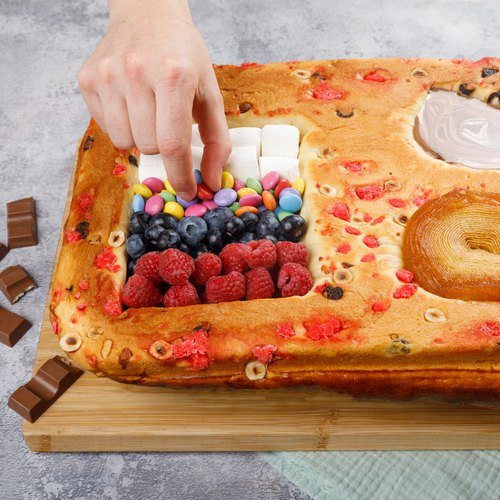 Loafly Dreams Brioche
Loafly Dreams Brioche! The best is yet to crumb with this recipe 😋🍬 🍫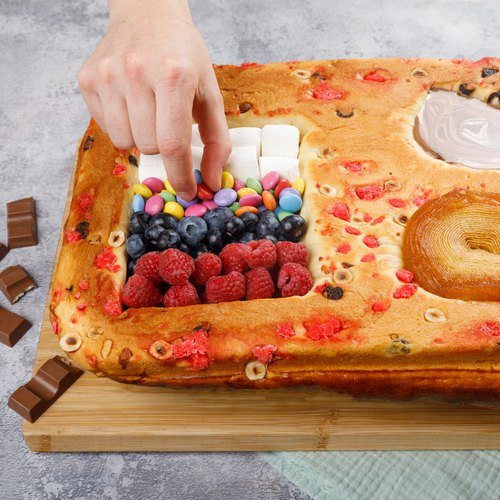 ---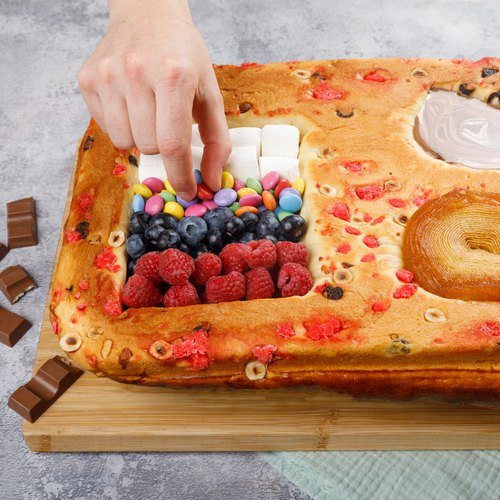 ---
Total time: 14 hours 45 minutes
Prep time: 1 hour 20 minutes, Cook time: 55 minutes, Rest time: 12 hours 30 minutes
Ingredients for 8 people
2 3/5 lbs of flour
2 tbsp of yeast
2 cups of milk
1 cup of sugar
Salt
4 egg
3/5 cup of butter
1 container of stuffed chocolate bars
1 oz of caramel
2 apples
2 oz of hazelnuts
2 oz of pink praline
1 egg yolk
1 bag of marshmallows
1 box of jordan almonds
Raspberries
Blueberries
Chocolate chips
---
Tools
parchment paper
Empty jam jars
---
Step 1/4
Mix the yeast with the lukewarm milk. Add the flour, sugar and salt. Knead then add the eggs and knead again. Incorporate the cold butter into pieces, knead again then add the chocolate chips. Let the dough rise at room temperature for 30 minutes. Degas the dough and put it in the fridge for 12 hours. Place the brioche in the rectangular dish.
Step 2/4
Cut the stuffed chocolate bars in 2 lengthwise, place them on a plate, melt them in a double boiler then set aside. Pour the caramel inside the lid, cut the apple into strips and form a flower with the apples (wrapping around a fork). Cut the strip in 2, place half of the strip in the lid filled with caramel then bake for 30 minutes at 340°F. Cut the rest of the apple into pieces, roast them in the oven for a few minutes with the rest of the caramel and a little butter to obtain caramelized apples.
Step 3/4
Wrap the empty box of jordan almonds dragees, the top of the box of stuffed chocolate bars and the jam jar with parchment paper. Place on baking sheet. Sprinkle the crushed hazelnuts and the pink praline on the baking sheet. Place the brioche on top, spreading it over the entire baking sheet. Brush the brioche with the egg yolk then bake for 25 minutes at 350°F.
Step 4/4
Turn the brioche over and remove the containers covered with parchment paper. Pour the melted chocolate bars into the space of the chocolate bar box. Place the caramelized apples in place of the jar. Place the apple flower on top. Garnish the last space with marshmallows, jordan almonds, raspberries and blueberries. Serve and enjoy!