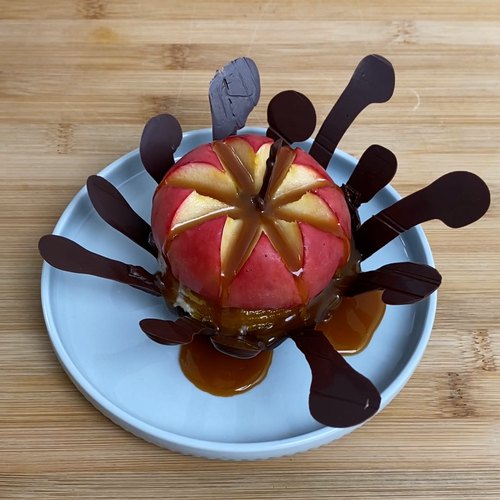 Chocolate Apple Splash
A mini apple tart with a splash of chocolate 🍫🍎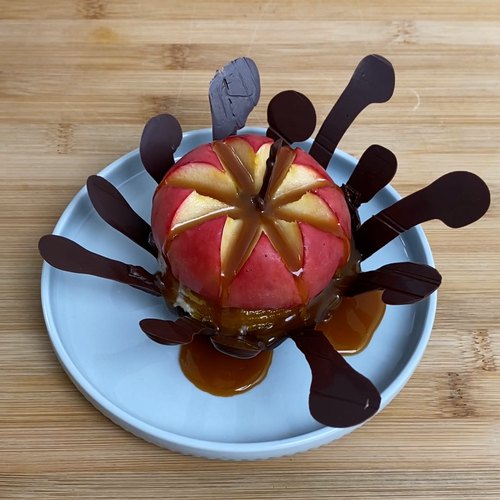 ---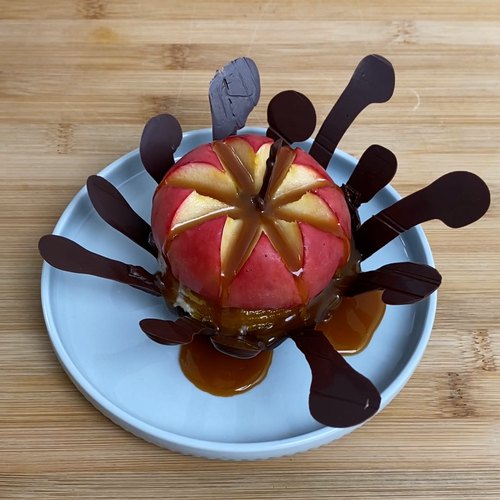 ---
Ingredients for 3 people
1 cup of melted dark chocolate
6 apples (pink lady)
1/2 cup of raw cane sugar
1/3 cup of butter, divided
1/4 cup of lemon water
1/2 cup of sugar
3 scoops of chefclub vanilla ice cream
caramel sauce
---
Tools
Parchement paper
Plastic wrap
Plastic bags
Apple corer
Mandoline
Small oven-safe ramekins
---
Step 1/4
Place the melted dark chocolate in a plastic bag, cut off the bottom corner, and trace a splash design on plastic wrap. Repeat 3 times and when the chocolate has slightly hardened, place the plastic wrap over 3 apples. Leave in the fridge for 1 hour.
Step 2/4
Cut out a flower shape from the tops of the remaining apples. Then cut off the top half of the apples and place in a baking dish. Sprinkle with the raw cane sugar and place 2/3 tbsp butter on top of each apple. Bake for 20 minutes at 325 °F.
Step 3/4
Peel the remaining apple halves and remove core with an apple corer. Cut into thin slices with a mandoline and place in a bowl of lemon water to prevent them from turning brown. Cook the sugar over low heat to make a caramel and then pour a caramel base into each ramekin. Pile the apple slices into the ramekin up to the brim and press down to compress them. Place pieces of the remaining butter in each hole and bake for 30 minutes at 350 °F.
Step 4/4
Once the apples are cool turn them out of the ramekins and place in fridge. Remove the chocolate shells from the plastic wrap and arrange them on a serving plate. Place the caramelized apples in the center. Next place 3 scoops of ice cream in a plastic bag and cut off the bottom corner. Then fill the inside of the caramelized apples with ice cream. Lastly cover with the roasted apple flowers and pour a generous amount of caramel sauce over them. Serve and enjoy!