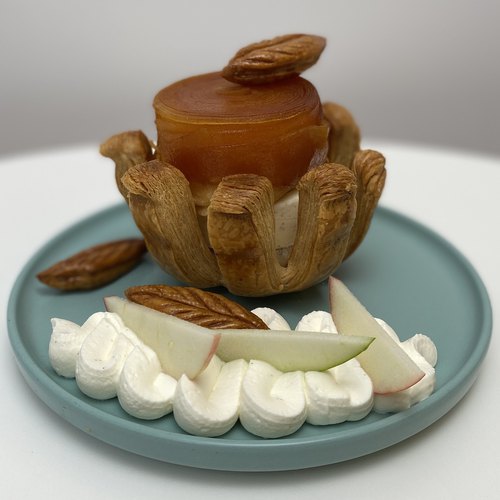 Mini Floral Apple Pies
A 5 star dessert that anyone can make ✨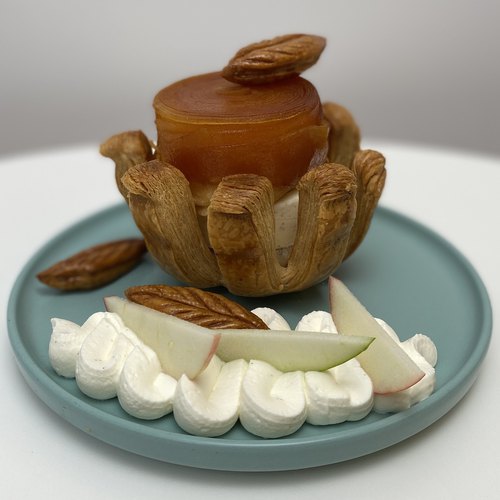 ---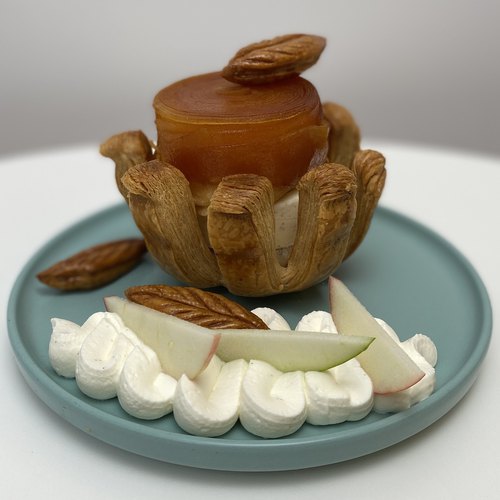 ---
Ingredients for 3 people
10 oz of puff pastry
1 ladyfinger
1 pint of vanilla ice cream
3/4 cup of sugar
1 tbsp of butter
3 red apples
1 vanilla bean
2 cups of heavy whipping cream
1 oz of rum
3/4 cup of applesauce
---
Tools
Medium oven-proof bowls
Small oven-proof bowls
Plastic wrap
Peeler
Freezer bag
Ice cream scoop
Ramekins
---
Step 1/4
Cut the puff pastry into 3 circles. With a knife, trace a flower in each circle, using a ladyfinger cookie as a guide for the outline for each petal as seen in the video. Remove excess dough and set aside. Place flowers inside small bowls and score the pie shells with a knife. Place another smaller bowl on top and turn over onto a baking sheet lined with parchment paper. Roll out the dough scraps and cut out 9 small leaves with a knife as seen in the video. Place the flowers and leaves in the oven for 45 minutes at 350 °F.
Step 2/4
Spread a sheet of plastic wrap on the work surface and place a line of 3 scoops of ice cream in the center. Wrap the scoops in the plastic wrap and tie the ends. Then roll to form one smooth ice cream cylinder. Place in freezer for 30 minutes.
Step 3/4
Make the caramel sauce by melting 1/2 cup sugar with the butter in a sauce pan over medium heat. Stir frequently and let cook until amber in color. Then divide the caramel into 3 ramekins. Peel the apples and make 9 long apple strips with the peeler. Roll up the strips to form an apple rose, using 3 long strips per rose. Place the roses in the ramekins and bake for 35 minutes at 350 °F.
Step 4/4
Whip the heavy whipping cream until it thickens. Then add the remaining sugar and the seeds of the vanilla bean. Add the rum, mix, and place in a freezer bag. Make small holes with a knife under the bottom of the pies at the base of the petals. Then fill with whipped cream. Add 1 tablespoon of applesauce to the bottom of each pie. Place a slice of the ice cream cylinder on top and then the caramelized apple rose. Arrange the tarts on plates and decorate with whipped cream, a few apple slices, and the puff pastry leaves. Serve and enjoy!