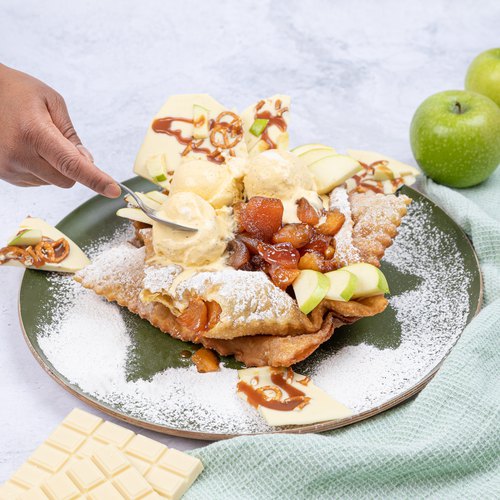 Deconstructed Apple Pie
Deconstructed Apple Pie! A new take on a classic 🍨🥧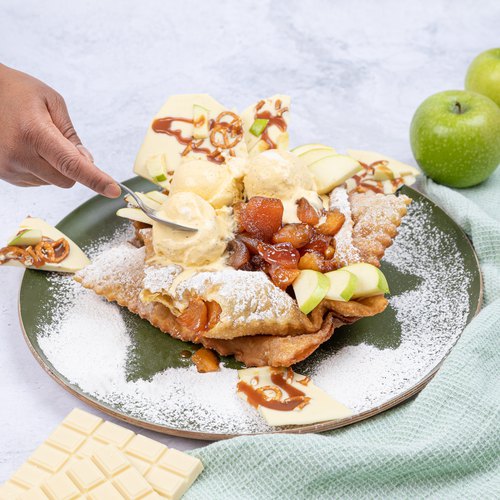 ---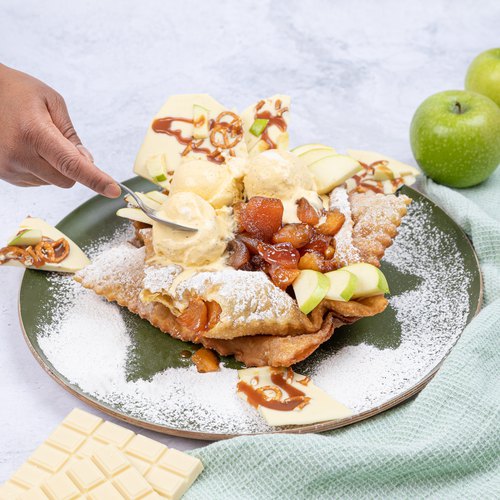 ---
Total time: 40 minutes
Prep time: 5 minutes, Cook time: 5 minutes, Rest time: 30 minutes
Ingredients for 2 people
2 cups of ice cream
4 cups of flour
1 cup of water
1 tsp of salt
1 tbsp of baking soda
2 tbsp of oil
5 cups of chopped green apple
3 tbsp of caramel sauce
1 cup of pretzels
2 cups of white chocolate
2 cups of sugar
1 tbsp of cinnamon
1 green apple
---
Tools
Rolling pin or metal rod
---
Step 1/4
Make a caramel with the sugar. Once golden brown add in the chopped apples. Cook until translucent. Add in the cinnamon and salt, then stir until smooth. Pour into a bowl and chill. Set aside about ¼ of the mixture and puree it.
Step 2/4
Melt some of the white chocolate and pour onto a parchment-lined baking sheet. Sprinkle with pretzels and diced apple. Drizzle caramel sauce on top. Refrigerate.
Step 3/4
Mix flour, salt, baking soda, oil and water. Knead until smooth and allow to rest 20 minutes. Roll out and spread the apple puree on one side of the dough. Fold over and cut into a square. Fry in hot oil while pushing down in the center to create a pocket.
Step 4/4
Fill the fried dough pocket with the apple pie filling, scoops of ice cream and shards of the white chocolate bark. Serve and enjoy!