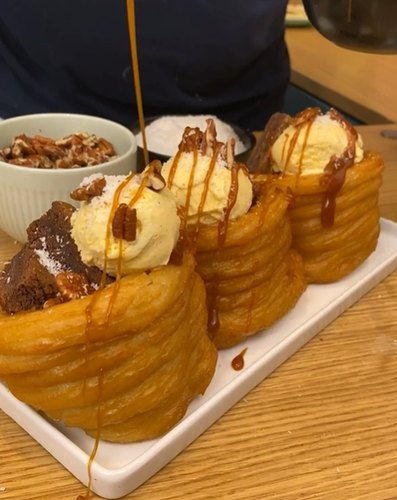 Churro Apple Pie
Churro Apple Pie! Say churray for this dessert 🥰🥧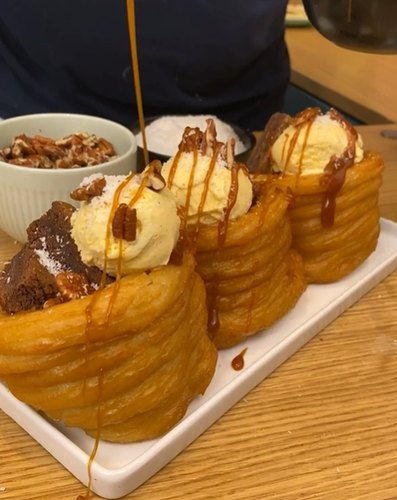 ---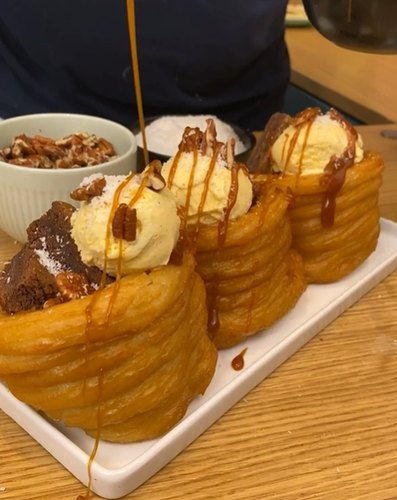 ---
Total time: 48 minutes
Prep time: 30 minutes, Cook time: 15 minutes, Rest time: 3 minutes
Ingredients for 6 people
6 egg
1 cup of water
1 cup of milk
8 tbsp of butter
2 cups of flour
Frying oil
2 cups of vanilla ice cream
6 brownies
White chocolate
Apple pie filling
---
Tools
parchment paper
Piping bag
Electric hand mixer
---
Step 1/3
Make your churro dough by bringing the butter, water, and milk to a boil. Add in your flour and stir using a wooden spoon. Add the dough to your electric stand mixer with the paddle attachment. On medium-low speed drizzle in the whisked eggs. Place in your piping bag.
Step 2/3
Pipe the churro dough on the parchment paper in the form of lattice on top of a pie. Then pipe the dough on the bottom side of the pyrex baking dish. Place both on baking sheets and into the freezer to set. Then to finish off the dough, invert little cups sprayed with grease on the last baking sheet and pipe the churro dough around each. Place in the freezer to harden. Fry each of the elements until golden brown.
Step 3/3
Once everything has been fried, you can put in your recipe of apple filling into the pie crust. For the little cups, add in ice cream and brownies for a sundae. Drizzle everything with some melted white chocolate, serve and enjoy!