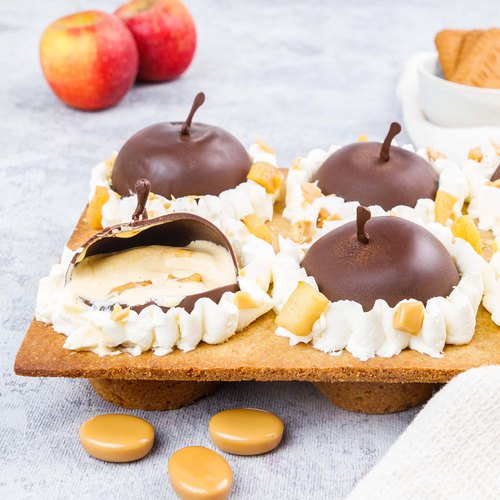 Basket of Speculoos Apples
Basket of Speculoos Apples! The hint you of cinnamon you've been craving 😚🍎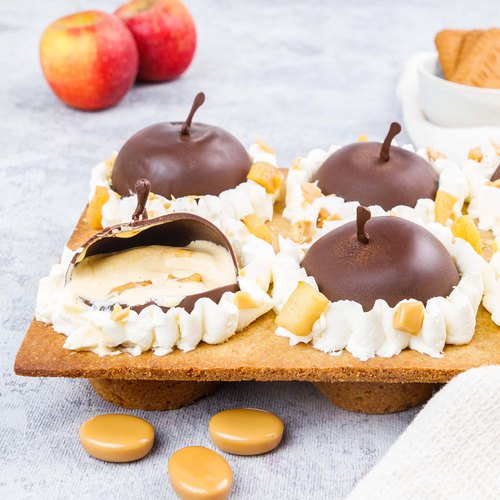 ---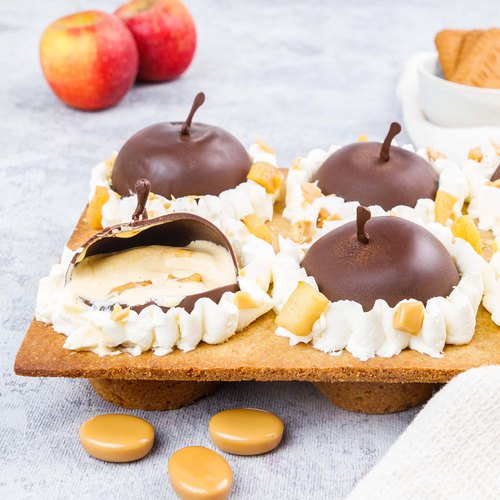 ---
Total time: 1 hour 55 minutes
Prep time: 40 minutes, Cook time: 25 minutes, Rest time: 50 minutes
Ingredients for 6 people
2 oz of butter cookies
3/5 cup of butter
3/5 cup of sugar
1 egg
2 cups of flour
1 pinch of salt
7 oz of dark chocolate
6 apples
2 1/2 tbsp of powdered sugar
4/5 cup of heavy cream
3 1/2 oz of mascarpone
---
Tools
Cling wrap
---
Step 1/3
Crumble the cookies. In a bowl, mix the butter, sugar, egg, flour, cookie crumbs, salt and mix again to obtain a dough. Refrigerate for 30 minutes.
Step 2/3
Melt the dark chocolate, cover each apple with clip wrap and dip half the apples in the melted dark chocolate. Place them on a pastry rack over a baking sheet with the chocolate side up. Form a cone out of parchment paper and pour the rest of the melted dark chocolate inside. Place a sheet of parchment paper on the side of the baking sheet and draw lines of melted dark chocolate. Refrigerate for 20 minutes. Beat the powdered sugar, heavy cream and mascarpone to make a whipped cream, place in a piping bag and set aside.
Step 3/3
Place the dough in a muffin tin, press into the hollows, sprinkle with crumbs and smooth with a second muffin tin. Bake for 25 minutes at 350°F. Unmold the chocolate from the apples, make a line of chocolate above each one and set aside. Cut the apples into pieces and cook them in a pan with butter. Fill with baked apples, place a scoop of Chefclub caramel ice cream over the baked apples and top with chocolate shavings. Place the whipped cream around the chocolate cones, chop the caramel candies and sprinkle on top. Serve and enjoy!