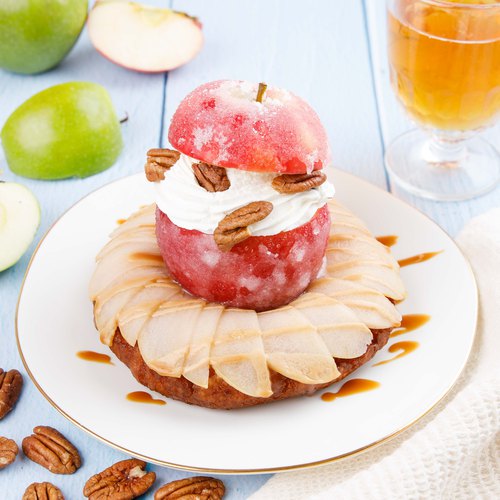 An Apple A Day Beignet
An Apple A Day Beignet! A sweet treat fried to perfection 😍🍎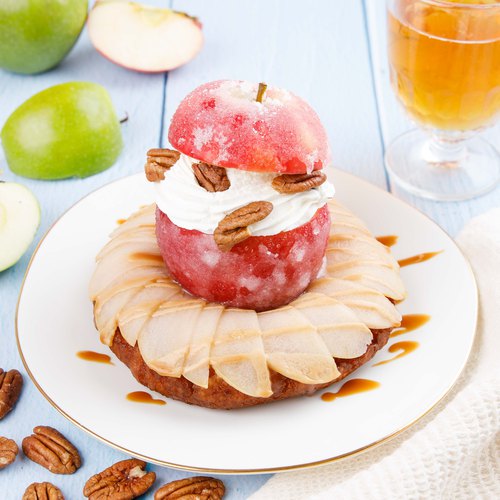 ---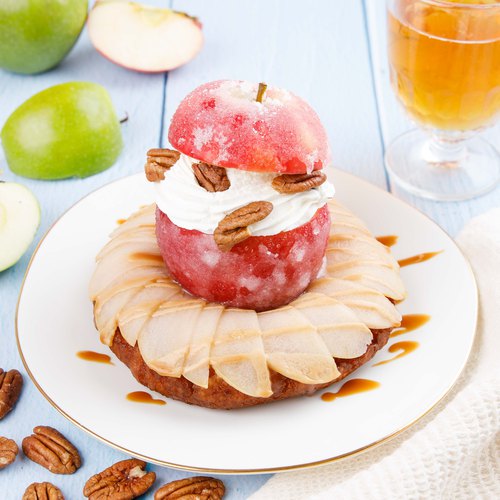 ---
Total time: 9 hours 25 minutes
Prep time: 40 minutes, Cook time: 15 minutes, Rest time: 8 hours 30 minutes
Ingredients for 3 people
1 cup of flour
3 tsp of yeast
1 cup of sugar
1 egg
1/2 cup of milk
6 red apples
3 1/2 oz of caramel
24 pecans
4 green apples
1 cup of cider
4 oz of mascarpone
2 tbsp of powdered sugar
1 cup of heavy cream
Frying oil
---
Tools
parchment paper
Cling wrap
Hand mixer
Piping bag
---
Step 1/5
For the apple sorbet: Cut the green apples into quarters, place them in a blender with the cider and blend until you obtain an apple sorbet. Pour the sorbet into a rectangular dish and set aside for 480 minutes in the freezer.
Step 2/5
Mix the flour, yeast, 6 tablespoons of sugar, egg and milk until you obtain a smooth batter. mixture, refrigerate the dough for 30 minutes. Place the dough in a piping bag and set aside.
Step 3/5
Pipe a circle of beignet dough on parchment paper. Place it in the frying oil and drizzle lines of caramel over it. Place the pecans on the beignet then fry it on each side. Repeat the process twice. Heat 0.8 cup of water with 0.5 cup of sugar to obtain a syrup. Cut the apples into thin slices, soak them in syrup and form a rosette. Place on cling wrap. Place the beignet upside down on the apple rosette and fold the cling wrap over the beignet. Place the beignet with the apples on a plate and remove the cling film. Repeat the process twice.
Step 4/5
Cut the top of 3 red apples, hollow out the inside, cover them with syrup then sprinkle them with the rest of the sugar to obtain frosted apples. Whip the mascarpone, icing sugar and heavy cream into whipped cream. Place in a piping bag and set aside.
Step 5/5
Garnish the frosted apples with the sorbet using a melon baller. Pipe the whipped cream on top of the frosted apples. Place the beignets on a plate. Drizzle caramel on each beignet. Place the frosted apples in the center of each beignet. Place the rest of the pecans on the whipped cream, cover with the frosted apple tops and enjoy!