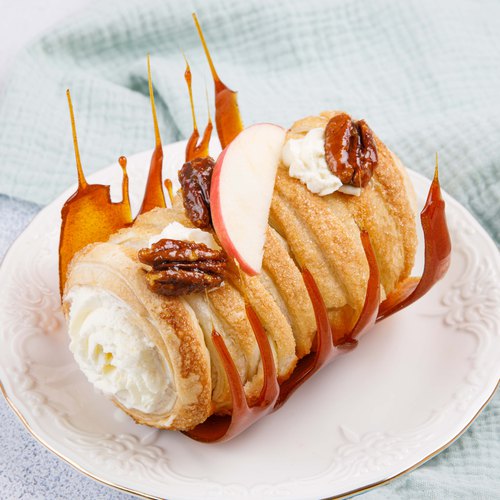 Caramel Apple Hand Pies
Caramel Apple Hand Pies! Here's the in-cider info: this dessert is delicious 😊🍎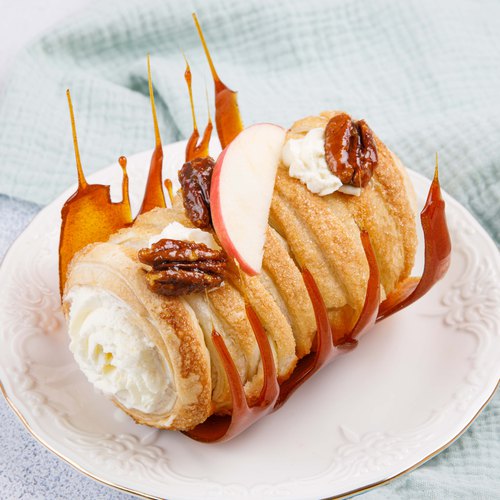 ---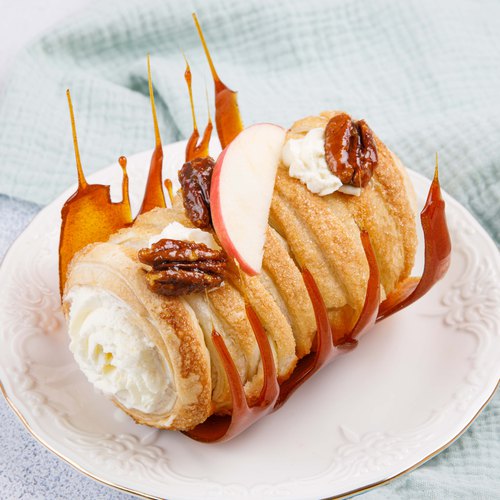 ---
Total time: 1 hour 10 minutes
Prep time: 40 minutes, Cook time: 30 minutes
Ingredients for 3 people
1 puff pastry
1 1/2 tbsp of butter
3/4 cup of sugar
2 apples
2 oz of pecans
0.2 cup of cider
1/4 cup of mascarpone
2 tbsp of powdered sugar
0.4 cup of heavy cream
Brown sugar
---
Tools
Rolling pin or metal rod
parchment paper
bottle of cider
multi blade rotary cutter
---
Step 1/3
Cut the puff pastry into strips using a multi blade rottary cutter. Wrap a small rolling pin in the aluminum foil. Wrap the strips of puff pastry around the aluminum roller. Repeat the process twice. Melt 1 tablesppon of butter and pass the rolls of puff pastry through the melted butter and brown sugar. Place them on a baking sheet and bake for 30 minutes at 350°F.
Step 2/3
Melt the sugar to obtain caramel. Place a parchment paper around the bottle of cider and place the bottle horizontally above a salad bowl. Pour half of the caramel delicately onto the baking paper and let it cool. Repeat the process 2 times. Cut the apples and the pecans into pieces (reserve 9 pecans). Add the rest of the butter, the apples, the pecans to the remaining caramel and mix. Remove the baking paper with the caramel from the bottle of cider and set the caramel decorations aside. Break the caramel at the bottom of the bowl to obtain pieces of caramel. Add the pieces of caramel to the apple and pecan nut mixture. Add the cider and cook for a few minutes.
Step 3/3
In a bowl whisk together the mascarpone, icing sugar and heavy cream. Place the whipped cream in a piping bag and cut off the bottom corner. Unmould the rolls of puff pastry from the aluminum rolling pins. Garnish one end with whipped cream and place the mixture of caramelized apples in the center. Cover with additional whipped cream. Place the rolls of puff pastry in the caramel decoration and pipe whipped cream dots on top. Place the rest of the pecan nuts on the whipped cream dots. Add 1 apple quarter in the center and enjoy!