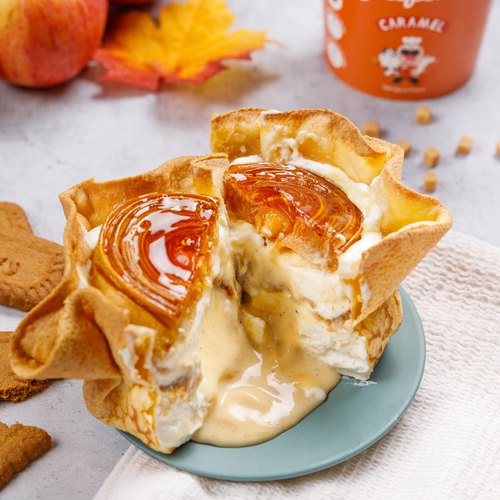 Apple Pastry Cup
Apple Pastry Cup! This cozy treat is perfect for chilly days 🍎🥧🍂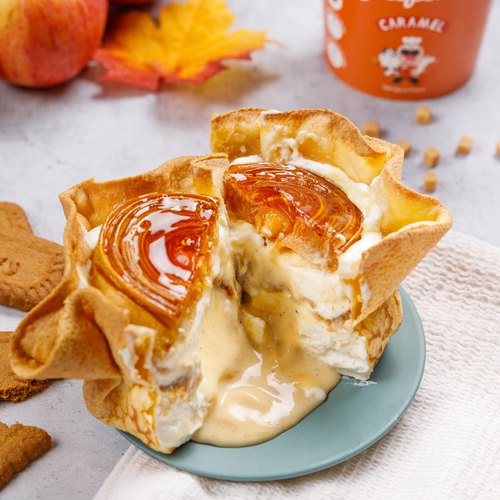 ---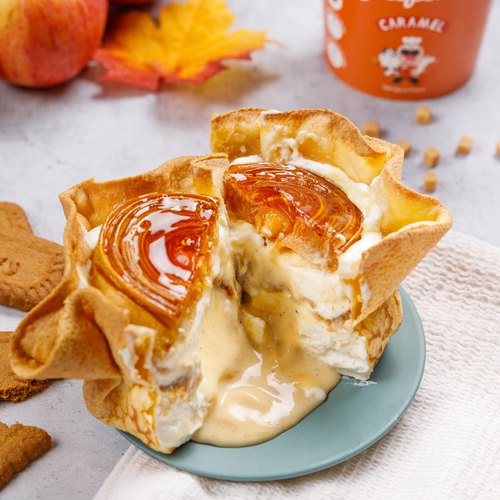 ---
Total time: 55 minutes
Prep time: 35 minutes, Cook time: 20 minutes
Ingredients for 3 people
2 tbsp of butter
1 cup of sugar
3 apples
2 tbsp of grand marnier
3 crepes
0.7 cup of heavy cream
1 tbsp of powdered sugar
3 1/2 oz of mascarpone
1 pint of chefclub caramel ice cream
4 speculoos cookies
---
Tools
Ziplock bag
Empty jam jars
Peeler
---
Step 1/3
Core an apple, cut it into pieces, place the pieces in a saucepan, add the butter, 2 tbsp of sugar and 4 tbsp of water. Simmer until you obtain a compote.
Step 2/3
Place the jam jars upside down on a grid placed over a frying pan, place the crepes on the jam jars then flambé them with the Grand Marnier. Heat the rest of the sugar with 1 tbsp of water to make a caramel. Pour it into the lids of the jam jars then crush the speculoos to obtain speculoos powder and set it aside. Cut the apples into a long strip using an apple peeler and roll each strip on itself. Cut them in 2 then place them in the lids of the jam jars. Bake for 20 minutes at 300°F.
Step 3/3
Whip the heavy cream, the mascarpone and the powdered sugar. Place the whipped cream in a Ziplock bag then cut off the bottom corner. Pipe the whipped cream in the crepe shells. Place 1 scoop of Chefclub caramel ice cream in each crepe, sprinkle the speculoos powder then pour the apple compote on top. Cover with whipped cream, place the apple rosettes and enjoy!