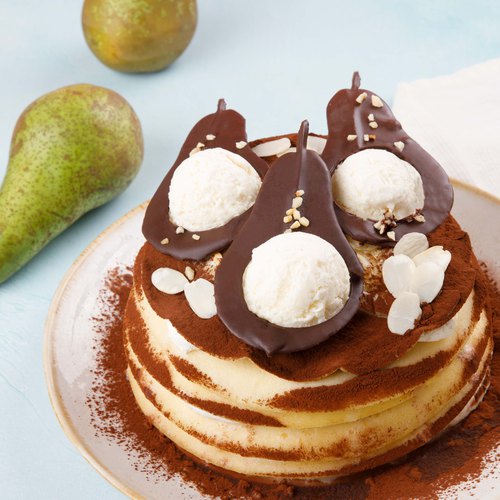 Poached Pear Crepe Cake
Poached Pear Crepe Cake! Life is batter with this sweet recipe 😁🍐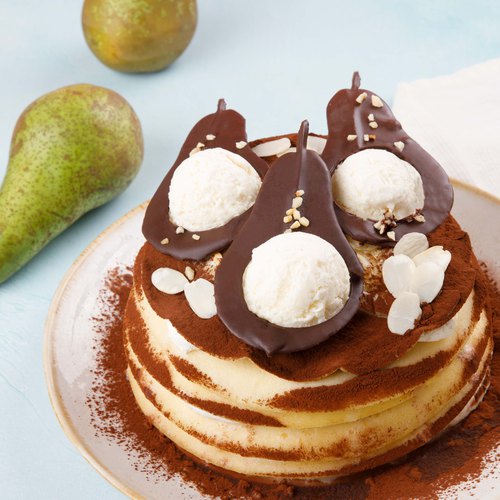 ---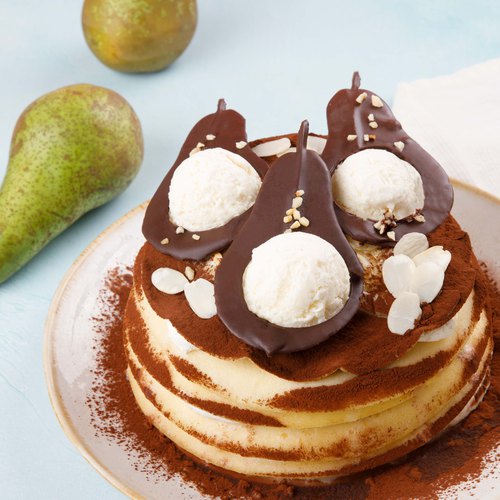 ---
Total time: 45 minutes
Prep time: 45 minutes
Ingredients for 4 people
2 cups of flour
4 egg
2.1 cups of milk
1 pear
5.3 oz of dark chocolate
Hazelnuts
3 1/2 oz of almonds
7 oz of mascarpone
3 tbsp of powdered sugar
1 cup of heavy cream
1/2 cup of cacao powder
5.3 oz of vanilla ice cream
---
Tools
Skewers
Shot glass
---
Step 1/3
Rinse the pear, drain it, cut it in 2 lengthwise and plant 1 skewer in each part. Melt the dark chocolate, dip the insides of the pears in the melted dark chocolate, sprinkle the chocolate side of the pear with crushed hazelnuts and place the shot glass in the center, pressing down to use it as a cookie cutter. Repeat the process to have 3. Let the chocolate set, unmold it from the pear and set it aside.
Step 2/3
Mix flour, eggs and milk to create a crepe batter. Cook the crepes in a frying pan. For the last crepe pour the batter around the edge of an oiled frying pan, place 3 glasses upside down in the center and pour the rest of the pancake batter in the center, sprinkle with almonds and allow to cook. Remove the glasses, turn the crepe over, place a lid on the crepe, press the lid on the crepe like a cookie cutter to form a circular crepe, remove the excess and set it aside. Place the crepe with the others.
Step 3/3
Whip the mascarpone, powdered sugar and heavy cream into whipped cream. Place the whipped cream in a piping bag. Cut the rest of the pears into pieces, form layers of crepes, whipped cream, almonds, pears with all the crepes. Draw a whipped cross on the last pancake, place the pancake with the holes, sprinkle with cacaow powder, sliced almonds, place 3 scoops of Chefclub vanilla ice cream in the spaces of the cepes. Place the chocolate shells on the scoops of ice cream and enjoy!