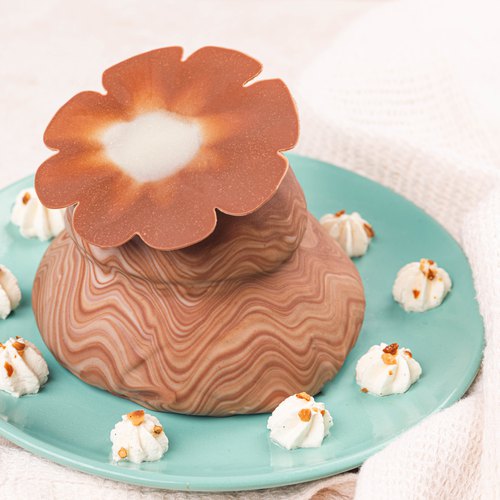 Cream Puff Bouquet
Cream Puff Bouquet! Make life a little sweeter with this recipe 😘🌼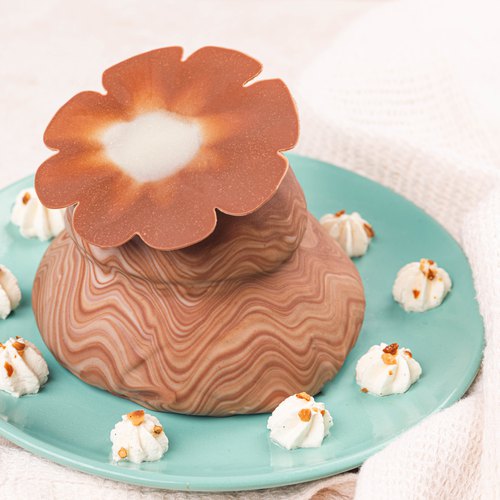 ---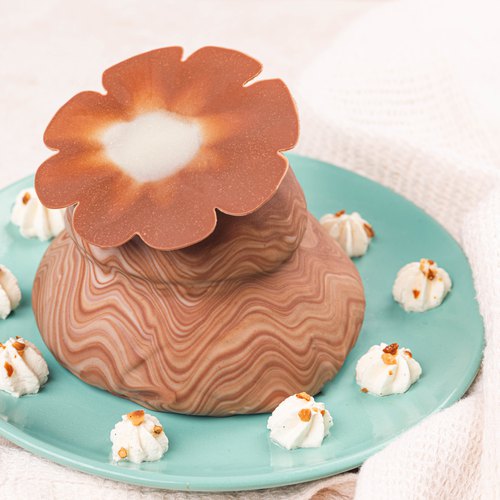 ---
Total time: 1 hour 15 minutes
Prep time: 45 minutes, Rest time: 30 minutes
Ingredients for 3 people
1 1/4 cups of flour
1.7 cups of olive oil
1/2 cup of sugar
1 pinch of salt
5.3 oz of milk chocolate
3 1/2 oz of white chocolate
1 1/4 cups of heavy cream
2 tbsp of powdered sugar
7 oz of mascarpone
2 pears
2 oz of caramelized hazelnuts
1 pint of chefclub vanilla ice cream
---
Tools
Plastic bottle
Plastic sheet protector
Apple cutter
---
Step 1/4
Mix the flour, 2 tbsp of sugar, olive oil, salt and ½ cup of hot water. Form 3 small balls of 1.6 oz and 3 large balls of 3.5 oz then allow to rest.
Step 2/4
Heat the cork of a bottle, gently skewer the cork with a skewer to form an opening, then set aside. Melt the milk chocolate and the white chocolate, pour 3 circles of milk chocolate into a plastic sheet protector to form 3 discs of chocolate then close to flatten the chocolate circles. Repeat the process in another plastic sheet protector with milk chocolate and white chocolate on top. Close the plastic sheet protector then flatten the 3 circles of chocolate with an apple cutter to form flowers. Refrigerate the circles for 30 minutes.
Step 3/4
Place a large ball of dough on the back of a large ladle, gently spread the dough to fit the shape, then fry in hot oil. Repeat the process 2 times with the large ladle and 3 times with the small ladle. Whip the heavy cream, mascarpone, powdered sugar then spread the whipped cream in the choux pastry shells. Poach the pears in 1 liter of boiling water with the rest of the sugar, cut them into pieces then garnish the shells covered with whipped cream with the pear pieces. Sprinkle with caramelized hazelnuts, place 1 scoop of Chefclub vanilla ice cream in the center and cover with whipped cream.
Step 4/4
Place the milk chocolate discs on the large shells, place the pastry upside down on a wire rack then place the smaller pastry on top. Cut the bottle in two, pour the rest of the melted white and milk chocolate into the upper part, then coat the pastry with chocolate. Repeat the process twice, place each one on a plate, place the milk chocolate and white chocolate disc on top and enjoy!