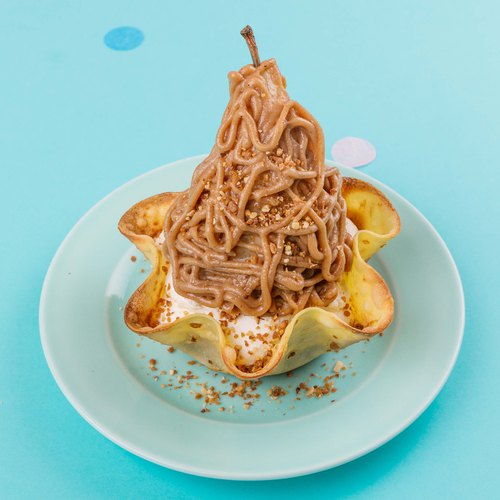 Creamy Chestnust Crepe Meringues
Creamy Chestnust Crepe Meringues! In a nutshell this dessert is delicious 🤗🌰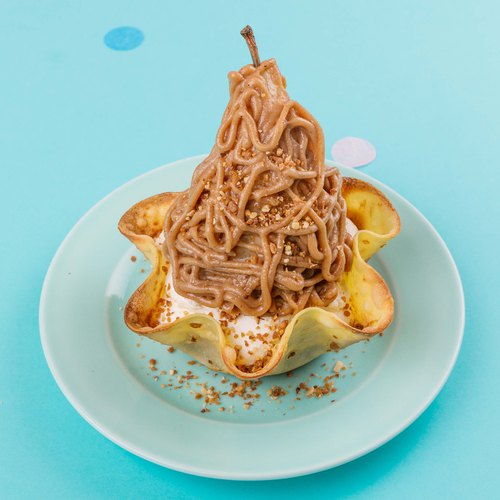 ---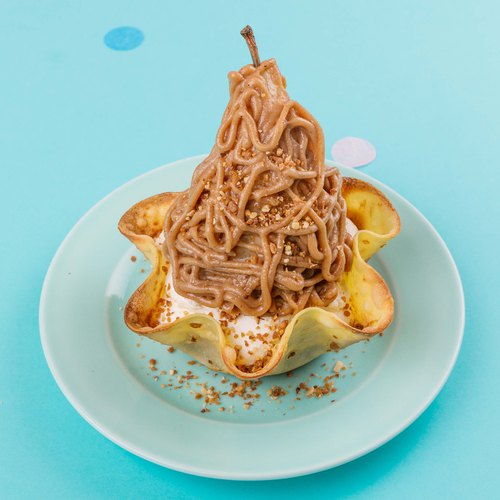 ---
Total time: 1 hour 25 minutes
Prep time: 50 minutes, Cook time: 25 minutes, Rest time: 10 minutes
Ingredients for 3 people
2 cups of flour
2.1 cups of milk
1 cup of sugar
3 1/2 tbsp of butter
0.4 cup of grand marnier
1 container of chestnut cream
3/5 cup of heavy cream
3 tbsp of red currant jelly
3 pears
3 1/2 oz of mascarpone
3 oz of hazelnuts
---
Tools
Piping bag
Skewers
parchment paper
---
Step 1/5
Mix the milk, the flour, 4 tbsp of sugar and the melted butter in a bowl and set aside.
Step 2/5
Cook the crepes in a frying pan. Place a metal rack over a pan of boiling water, then place the empty chestnut purée can upside down on top and place a crepe on the can. Pour the flambé alcohol into the saucepan and flambé it. Sprinkle the crepes with the alcohol before baking for 20 minutes at 345°F.
Step 3/5
Unmold the crepes, place them on a plate and garnish them with 3 tablespoons of chestnut cream. Pour the heavy cream into the chestnut cream can and mix everything together. Place the preparation in a piping bag. Close, pierce the tip of the piping bag horizontally using the skewer and set it aside.
Step 4/5
Peel the pears, poach them in a saucepan of boiling water with ½ cup of sugar, then drain them. Cut in half horizontally and dig a hole inside. Place the pear upside down in a glass, place 1 tablespoon of black currant jelly in it, then cut a square of parchment paper and apply it to the pear before turning it over, placing it on a plate and removing the glass . Cover the pear with chestnut cream using the piping bag. Turn the plate to obtain random threads. Refrigerate for 10 minutes.
Step 5/5
Whip the mascarpone and the rest of the sugar. Pour the preparation into a piping bag and fill each crepe with whipped cream. Remove the shell from the hazelnuts, crush them and sprinkle them on the cream. Add the pears and some crushed hazelnuts. Serve and enjoy!