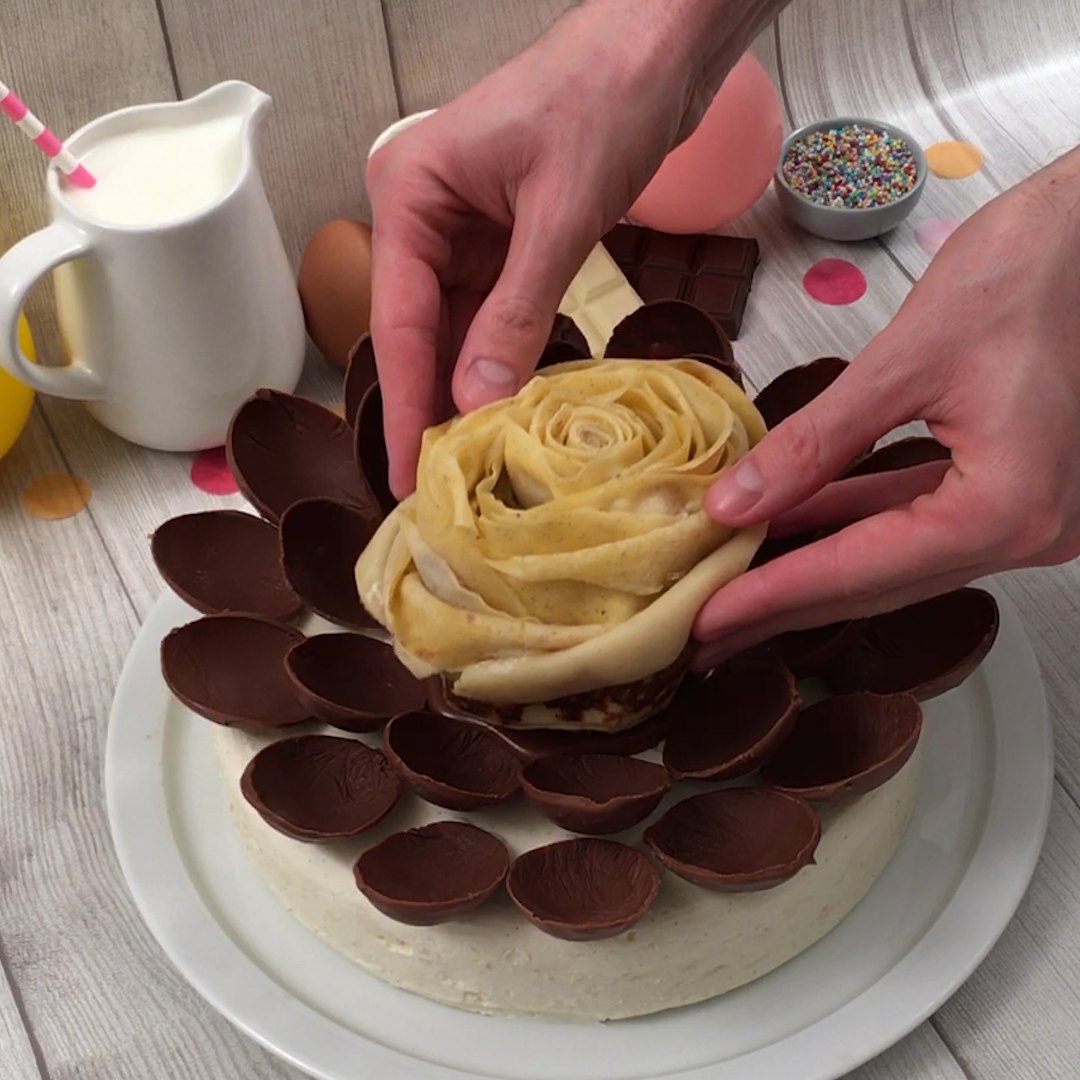 Crepe Cream Cake
Talk about a bloom! 🌷
Made by you!
Ingredients
2 cups crepe batter
6 eggs
3 cups milk chocolate, melted
8.8 ounces mascarpone
7 tablespoons powdered sugar
2 cups heavy cream
2 bananas
1 cup milk chocolate, melted
Tools
Rolling pin
Plastic wrap
1 Ladle
Springform pan
Crepe pan
Hand mixer
2 small pitchers
1. Place a rolling pin on two pitchers. Make 1 crepe and place it over the rolling pin, leaving the bottom edge of the crepe touching the pan so the new crepe will be attached. Continue making and attaching crepes by rolling the finished crepes along the rolling pin. Keep repeating until you have 6-8 crepes.
2. Wrap eggs in plastic wrap and dip halfway into the melted chocolate. Freeze the eggs for 15 minutes and unmold. Repeat until you have used all of the melted chocolate. In a bowl, combine mascarpone, powdered sugar, heavy cream, and vanilla extract. Whip until the cream is stiff. Pour the cream into the springform pan and smooth the top. Make an indentation in the center of the cream with the ladle and freeze the cream for 1 hour.
3. Unroll the crepes and cut them in half. Cover half of the crepes in cream and banana slices. TIghtly roll the crepes from one end to the other. Repeat these steps with the steps with the other half of the crepes.Wrap the second strip of crepes around the first roll. Chill.
4. Place the chocolate cups around the edge of the cream cake, covering edge completely. Fill the center with melted milk chocolate. Place the crepe flour on top of the chocolate. Enjoy.
Similar recipes from Chefclub