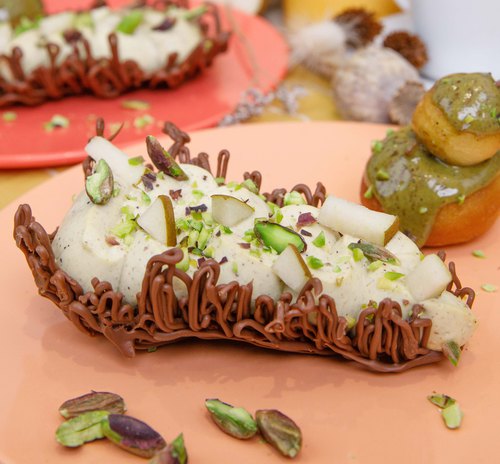 Pearfect Pistachio Pastry
Pearfect Pistachio Pastry! Time to go nuts for this yummy dessert 🤗🍐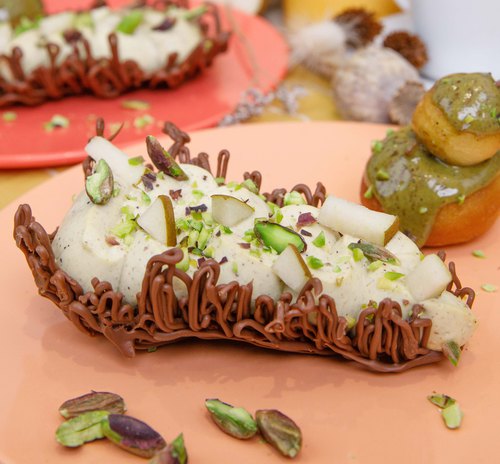 ---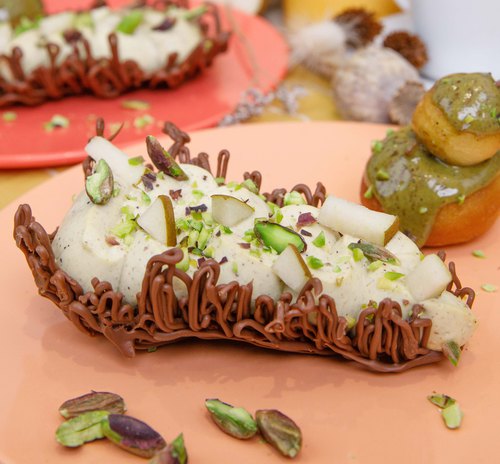 ---
Total time: 1 hour 35 minutes
Prep time: 35 minutes, Rest time: 1 hour
Ingredients for 3 people
1/2 cup of milk
1/2 cup of butter
1 tbsp of sugar
1 pinch of salt
1 cup of flour
4 egg
1 pear
5.3 oz of dark chocolate
1 3/4 oz of mascarpone
0.4 cup of heavy cream
1 tsp of powdered sugar
1 vanilla bean
3 tbsp of pistachio spread
3 tbsp of pistachios
2 tbsp of cacao powder
Oil
---
Tools
Piping bag
parchment paper
Ziplock bag
---
Step 1/4
Mix the milk, the butter, the sugar and a pinch of salt. Place in a pan and bring to a boil, add the flour and mix well. Remove from heat and add the eggs one by one, mixing well. Place the dough in a piping bag and set aside.
Step 2/4
Cut a pear in half, put a teaspoon inside each part and put it in the freezer for 30 minutes. Melt the dark chocolate, place it in a ziplock bag and cut off the bottom corner. Make lines of melted dark chocolate on one of the pear halves, let it rest, unmold the chocolate shells from the pears and put them in the fridge for 30 minutes. Repeat the process a second time to form a final chocolate shell. Cut the pear halves into pieces.
Step 3/4
Whip the mascarpone, heavy cream, powdered sugar, scrapped vanilla bean and half of the pistachio spread to make a whipped cream. Place it in a piping bag and fill the chocolate shells with the mixture. Sprinkle the rest of the pears with a tablespoon of crushed pistachios and set aside.
Step 4/4
Make 3 large dots and 3 small dots of dough on a sheet of parchment paper, fry them in hot oil and drain. Fill them with pistachio whipped cream. Dip the tip in the pistachio paste to cover, place them one on top of the other, place a piece of dark chocolate on top and sprinkle with cacao powder. Arrange on a plate and enjoy!