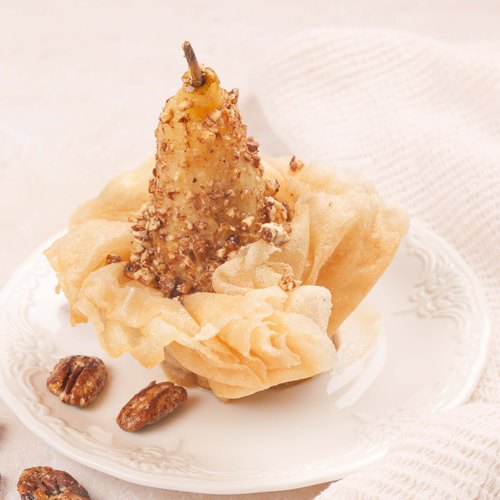 Yippie Pie Yay Pecans & Pears
Yippie Pie Yay Pecans & Pears! You're going to clove this recipe 😂🍐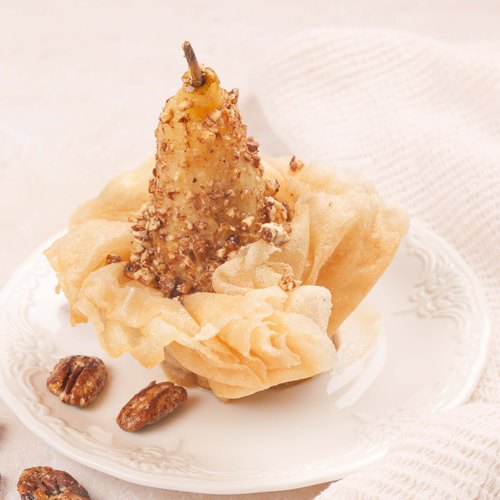 ---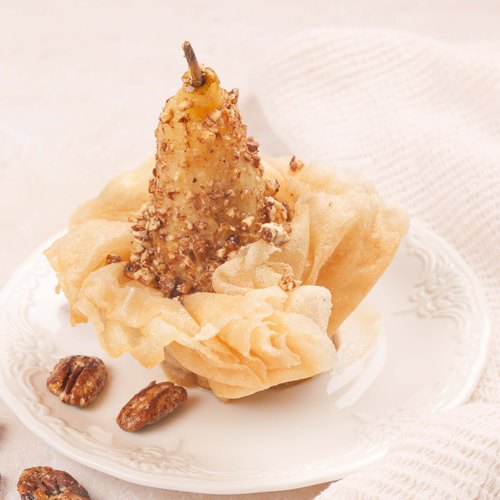 ---
Total time: 45 minutes
Cook time: 45 minutes
Ingredients for 4 people
2 cups of pecans
8 l of water
1 cup of sugar
2 tsp of ginger
1 star anise
1 cinnamon stick
cardamom
2 cloves
1 vanilla pod
6 pears
8 fillo dough sheets
3/4 cup of salted caramel sauce
---
Step 1/5
Make the syrup by simmering the water and dissolving the sugar. Add the vanilla pod and spices. Add the peeled pears but keep the stem. Plunge them into the water for about 30 min, depending on the ripeness of the pears. Reserve to the side.
Step 2/5
Chop the pecans. Caramelize the nuts with the sugar and 7 tbsp of water. When they are well caramelized add a spoon of butter and a pinch of salt. Set aside.
Step 3/5
Coat the pears with the salted caramel sauce. Add chopped pear to remaining caramel and roast in a small pan.
Step 4/5
Using a pear, push the Fillo sheets around the fruit to create a bowl shape. Remove the pear and fry the Fillo bowls in hot oil.
Step 5/5
Scoop 2 spoons of the caramelized pears into the Fillo bowls. Place the poached pears rolled in crushed pecans on top.