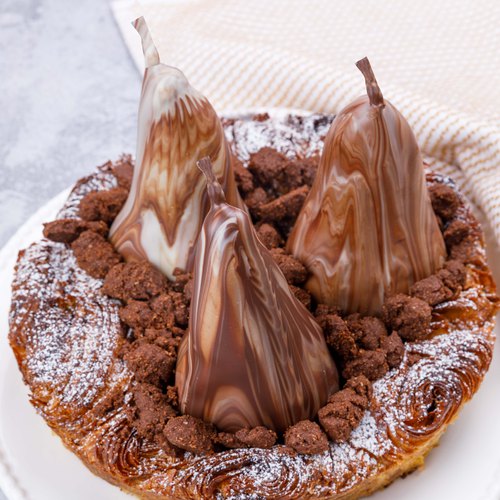 Chocolate Pear French Toast
Chocolate Pear French Toast! You will toastally love this recipe 🥰🍐🍫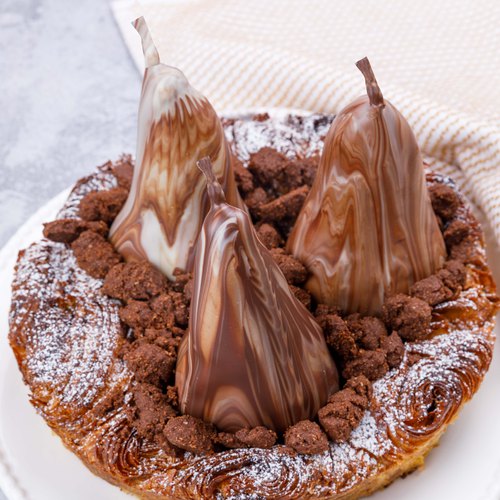 ---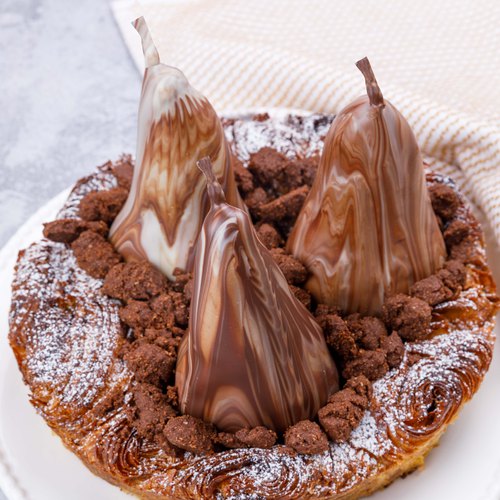 ---
Total time: 2 hours 5 minutes
Prep time: 45 minutes, Cook time: 50 minutes, Rest time: 30 minutes
Ingredients for 5 people
3.1 cups of milk
5 egg
3/4 cup of sugar
1 1/4 cups of flour
6 tbsp of almond flour
3/5 cup of brown sugar
Salt
2 1/4 tsp of baking powder
1/2 cup of butter
2 egg yolk
1/4 cup of cacao powder
6 chocolate breads
6 pears
3 1/2 oz of dark chocolate
5.2 oz of white chocolate
3 1/2 oz of milk chocolate
Powdered sugar
1 vanilla bean
---
Step 1/4
For the French toast: mix the milk, eggs, ½ cup of sugar until you obtain a smooth mixture. For the crumble: mix the flour, almond flour, brown sugar, salt, baking powder, cacao powder, butter then add the egg yolks then mix again until you obtain a smooth dough. Crumble the dough on a baking tray then bake for 20 minutes at 350°F.
Step 2/4
Cut the chocolate breads in 2, place them vertically in the mold, pour the French toast mixture then place 3 pears vertically. Bake for 30 minutes at 350°F. Peel 3 pears, pour the rest of the sugar, 1 vanilla bean into 1 liter of boiling water then add the pears to poach them. Plunge the pears directly into 1 liter of ice water to stop the cooking process.
Step 3/4
Melt the dark chocolate, the white chocolate and the milk chocolate. Pour the dark chocolate into a container then pour in the melted white chocolate and the melted milk chocolate. Dip the poached pears in the chocolate mixture then refrigerate them for 30 minutes.
Step 4/4
Remove the pears from the cake, cut off the end of the pears and press lightly on the pears to add the pear puree in the spaces in the center of the cake. Sprinkle with powdered sugar, place the pears coated with chocolate in the spaces on the cake, place the pieces of crispy crumble around the pears. Serve and enjoy!