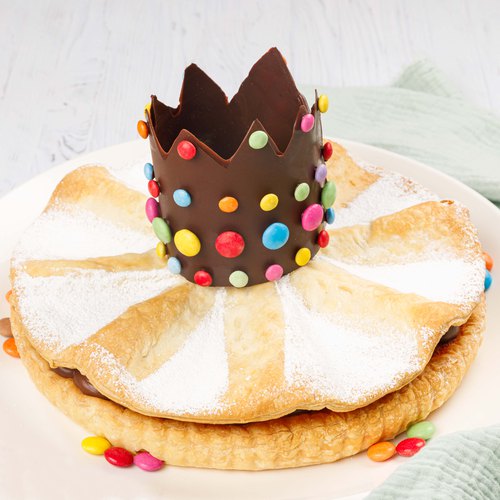 King Of Pears Tart
King Of Pears Tart! This sweet recipe will make you feel like royalty 😋👑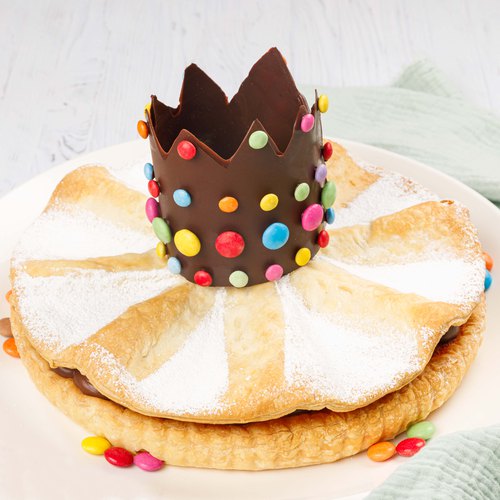 ---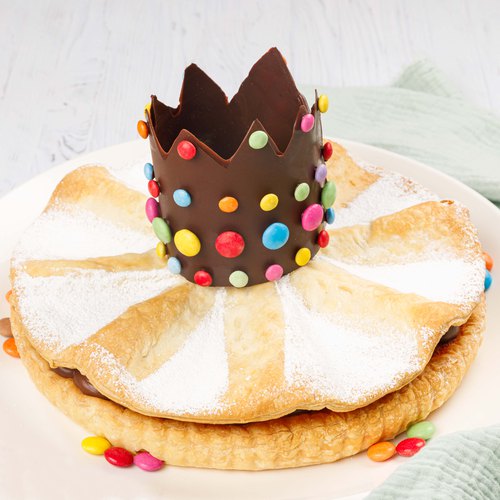 ---
Total time: 1 hour 40 minutes
Prep time: 40 minutes, Cook time: 30 minutes, Rest time: 30 minutes
Ingredients for 6 people
3/5 cup of butter
3/5 cup of sugar
2 egg
1 1/2 cups of almond flour
2 puff pastries
1 can of pears in syrup
15 oz of dark chocolate
2 cups of heavy cream
Jordan almonds
Powdered sugar
---
Tools
Toothpicks
Plastic sheet protector
Stapler
Piping bag
---
Step 1/4
Mix the butter, sugar, eggs and almond powder until you obtain a homogeneous paste.
Step 2/4
Place 1 puff pastry in a mold then fill it with the almond cream. Bake for 15 minutes at 350°F. Pour the jordan almonds into a bowl, cut out 4 jordan almond wrappers, staple the ends together to form a crown. Place the crown in a baking tray, cover it with the puff pastry then bake for 15 minutes at 350°F.
Step 3/4
Cut the pears into pieces. Melt 11.5 oz of dark chocolate, mix the melted dark chocolate and the heavy cream to obtain a ganache then place it in a piping bag. Pipe dots of chocolate ganache on the almond puff pastry, place the pears, the jordan almonds, then cover with the other puff pastry.
Step 4/4
Place the crown upside down on the puff pastry then sprinkle with powdered sugar. Melt the rest of the dark chocolate, pour it onto a plastic sheet protector. Spread the melted dark chocolate in the shape of a rectangle then draw a crown in the melted chocolate using a toothpick. Wrap the plastic sheet protector around a glass and refrigerate for 30 minutes. Place the rest of the jordan almonds on the chocolate crown using the rest of the melted chocolate to glue them. Place the crown in the center of the puff pastry and enjoy!