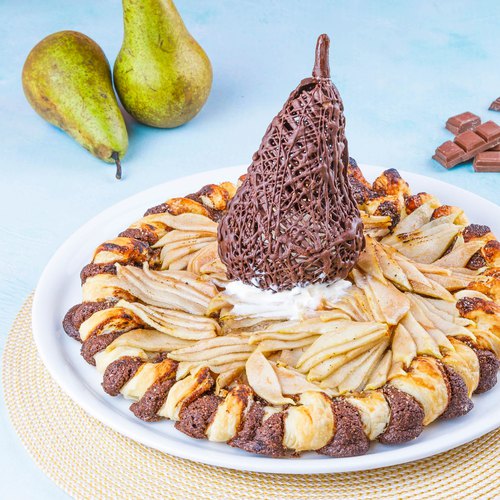 Twisted Pear & Chocolate Tart
Twisted Pear & Chocolate Tart! Set off on another mouthwatering adventure 😉🍐🍫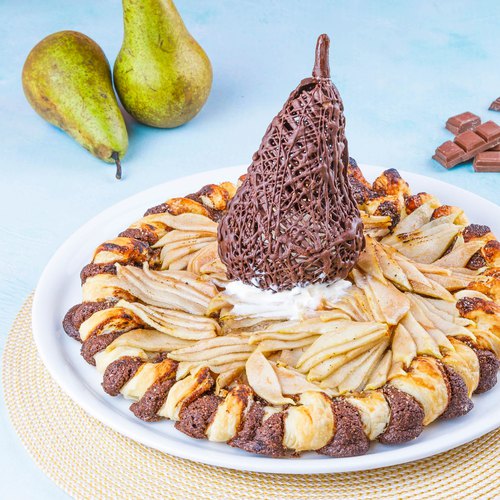 ---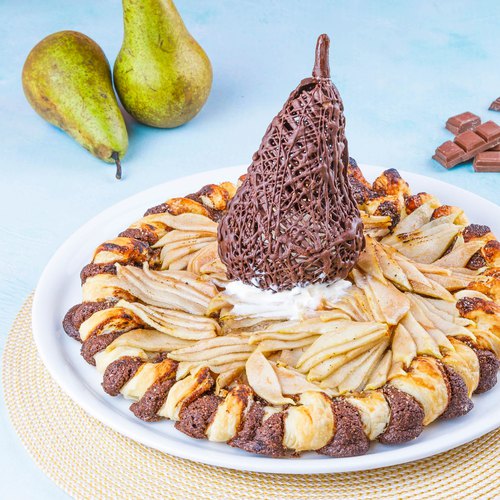 ---
Total time: 2 hours 10 minutes
Prep time: 40 minutes, Cook time: 30 minutes, Rest time: 1 hour
Ingredients for 6 people
3/4 cup of sugar
3/5 cup of butter
2 egg
1 puff pastry
4 tbsp of cocoa powder
1 1/2 cups of almond flour
1 scoop of vanilla ice cream
4 pears
1 1/4 cups of pear syrup
3 1/2 oz of dark chocolate
1.2 cups of flour
---
Tools
parchment paper
Toothpicks
Piping bag
---
Step 1/5
Before starting the recipe: fill an ice cube tray with water and cut a pear in half before placing them in the freezer.
Step 2/5
Melt the dark chocolate, form a cone with the parchment paper and pour the melted chocolate inside. Place the frozen pear halves on a baking sheet covered with parchment paper and cover them with a drizzle of melted chocolate. Fill a bowl with water and ice cubes, dip the chocolate-covered pear halves into it to set the chocolate. Unmold the chocolate shells, place them on a plate and refrigerate.
Step 3/5
Cut a pear in half lengthwise, then slice off the ends on the right and left. Cut slices from the remaining part. Stick a toothpick in the base of the pear to hold all the slices, move them to obtain a rosette and dip everything in the pear syrup. Repeat the process to obtain 6 rosettes of pears.
Step 4/5
Mix the flour, almond four, sugar, eggs and cocoa powder to create the almond cream. Place in a piping bag. Roll out the puff pastry, place the almond cream on the edges and fold the dough inwards. Cut the top of the edges of the puff pastry using a scissor, pull the tips of the dough before gluing them inside the pie. Place the almond cream in a spiral inside the tart, place the pear rosettes and bake for 30 minutes at 350°F.
Step 5/5
Heat a saucepan and turn it over. Take out the pear-shaped chocolate shells, melt the edges of the two halves on the pan to glue them together and melt the bottom of the shell. Place a scoop of vanilla ice cream in the center of the pie then add the chocolate decoration on top. Serve and enjoy!