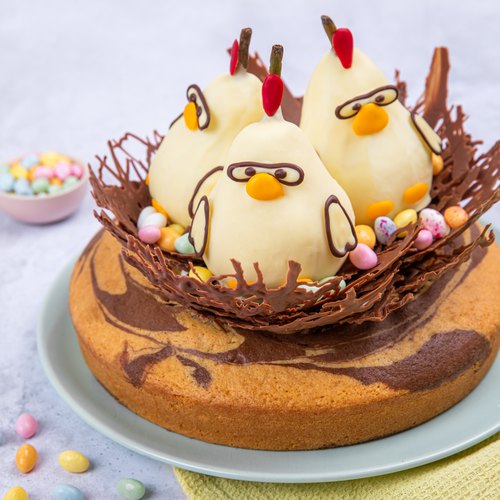 Pear & Chocolate Nest
Pear & Chocolate Nest! A fun recipe to make with the kids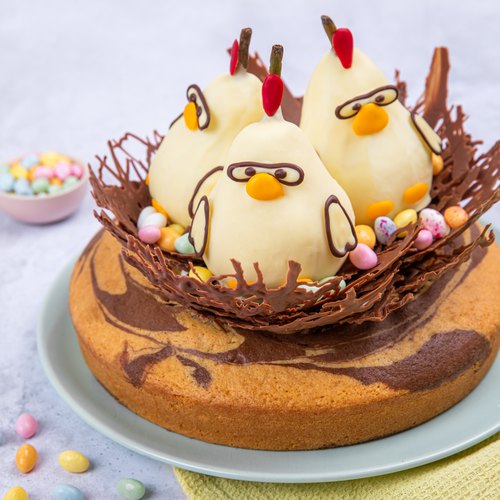 ---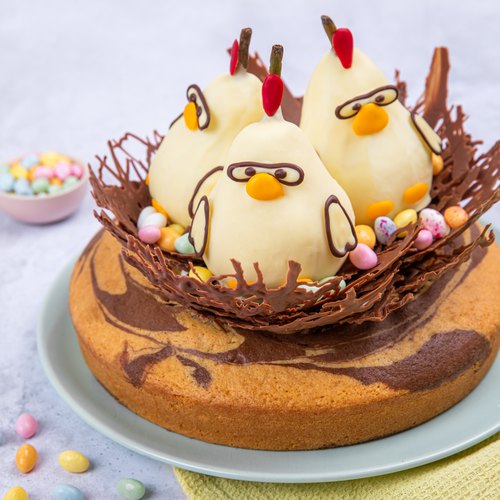 ---
Total time: 1 hour 10 minutes
Prep time: 25 minutes, Cook time: 30 minutes, Rest time: 15 minutes
Ingredients for 3 people
1/2 cup of butter
1/2 cup of sugar
1 cup of flour
1 tsp of baking powder
2 tsp of cacao powder
7 oz of milk chocolate
1 cup of heavy cream
13 oz of white chocolate
3 pears
Candies
Red food coloring
Yellow food coloring
Brown food coloring
4 egg
---
Tools
Balloon
Cling wrap
Plastic sheet protector
---
Step 1/4
Mix the eggs, melted butter, sugar, flour, and baking powder until smooth. Divide the batter in two and add cocoa powder to one of the halves. Place a glass in the center of a round cake pan to form a hole, then pour the two batters around it. Bake for 30 minutes at 350°F.
Step 2/4
Inflate a balloon halfway and cover it with plastic wrap, then pour melted milk chocolate over the balloon to form a nest. Let it cool in the fridge, then remove the balloon and the plastic wrap.".
Step 3/4
Whisk the heavy cream and add it to the center of the cake. Place the chocolate nest on top. Melt 6 oz of white chocolate in a saucepan. Wash and peel the pears, dip them completely in the white chocolate, and chill for 15 minutes.
Step 4/4
Print the Colette hen design, place it a plastic sheet protector, then draw the outlines with the remaining dyed white chocolate. Add details to the pears, place them in the chocolate nest, add colorful candies to make eggs, then enjoy!