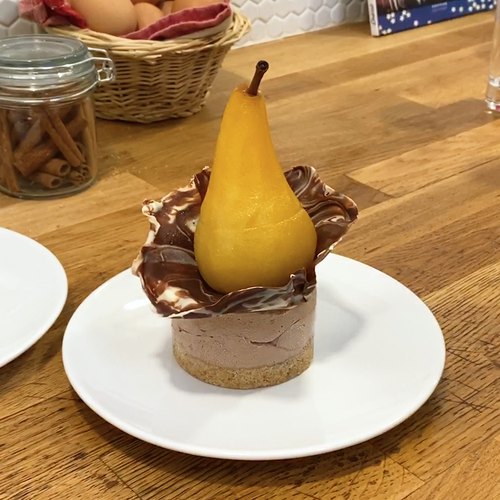 Triple Chocolate Poached Pears
Stay classy with this elegant dessert! 🍐🍫😍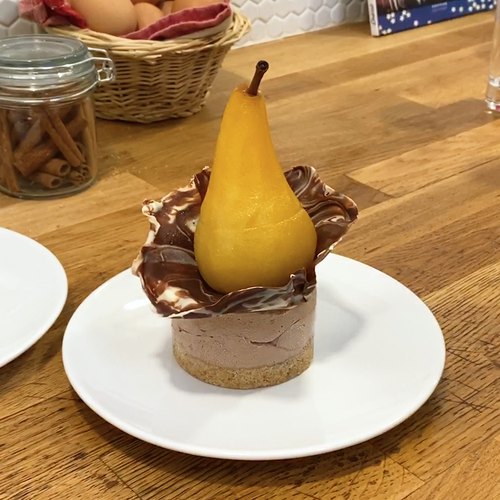 ---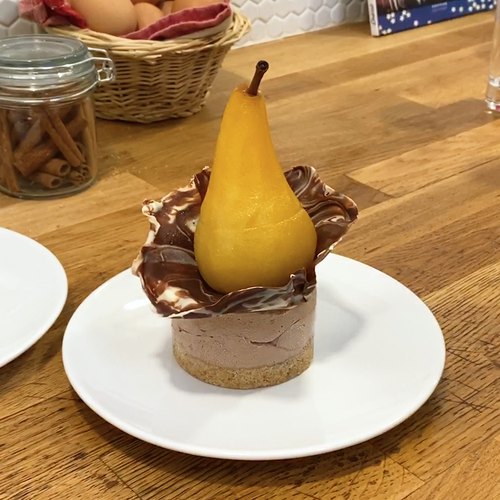 ---
Ingredients for 3 people
3/4 cup of heavy whipping cream, divided
1 cup of white chocolate, divided
3 1/2 oz of butter cookies
4 tbsp of melted butter
2 1/2 cups of sugar
3 pears
1/2 cup of dark chocolate
1/2 cup of white chocolate
1/2 cup of chocolate spread
---
Tools
Plastic wrap
Small plastic bottle
Food processor
Parchement paper
Electric mixer
Clothespins
Bowls
---
Step 1/5
Boil 1/4 cup heavy whipping cream. Then pour the boiling cream over 1/2 cup milk chocolate in order to melt it. Add in the rest of the heavy whipping cream while stirring. Next, cover with cling film and place in the fridge for 1 hour.
Step 2/5
Cut three circular rings out of the plastic bottle. Mix the butter cookies in a food processor and then add in the melted butter. On parchment paper, spread out and press the cookie mixture evenly into the plastic rings. Whip the refrigerated milk chocolate mixture using an electric mixer and then distribute it into the rings to fill them. Place in the freezer for 1 hour.
Step 3/5
Melt the sugar slowly in the pan to obtain a brown caramel. Then add in 4 cups of boiling water while stirring and leave on low heat. Meanwhile peel the pears and remove the core by scooping out the center. Next, plunge the pears into the syrup and let them rest for 30 minutes.
Step 4/5
Melt the white, dark, and remaining milk chocolate separately for 1 minute each in the microwave. On parchment paper, form a disk by drizzling the three chocolates using a spoon. Fold the parchment paper around the disc to make a cup shape and hold it in place with clothespins. Repeat twice. Place the cups into small bowls and let chill for 30 minutes.
Step 5/5
Drain the pears from the syrup and place them in the fridge for 30 minutes. Remove the cakes from the plastic rings. Then separate the chocolate cups from the parchment paper and place them back in the fridge for 30 minutes. Fill the pears with the chocolate spread and place them on the chocolate cups. Lastly, place each cup on top of the small cakes and enjoy.