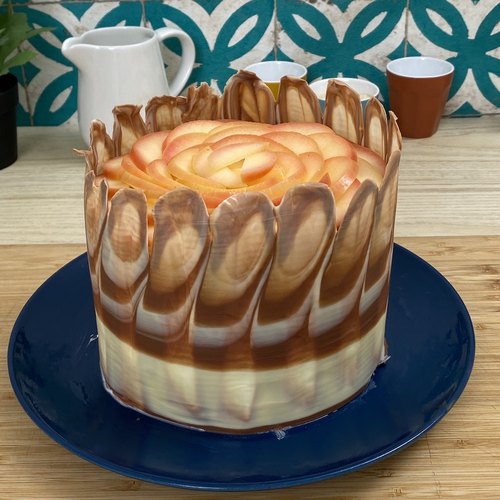 Grand Chocolate Apple Cake
A beautifully decorated cake for chocolate lovers 🍎🍫🍰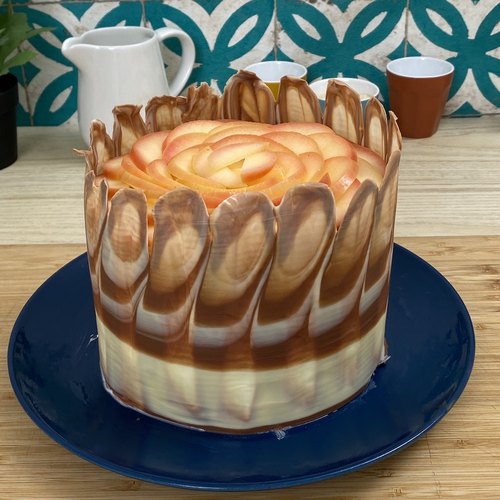 ---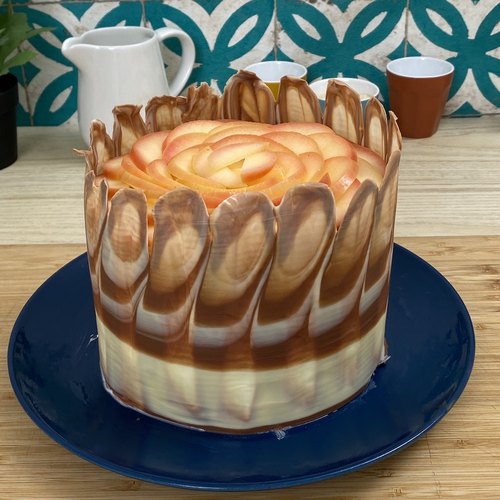 ---
Ingredients for 8 people
1 cup of white chocolate
3/4 cup of milk chocolate
6 eggs
2 cups of sugar
1 1/4 cups of butter
1 1/2 cups of dark chocolate
2 tsp of baking powder
2 cups of flour
4 apples
2 vanilla beans
1/2 cup of mascarpone cheese
5 tbsp of powdered sugar
1 cup of heavy cream
lemon juice
---
Tools
Plastic wrap
Round cake pan
Electric mixer
---
Step 1/5
Draw a line of white chocolate on a sheet of plastic wrap. Draw a line of milk chocolate on top, then push the chocolate up with your thumb to get marbled stripes and let it rest for 1 hour in the fridge.
Step 2/5
Mix the eggs with the sugar, add 1 cup of melted butter to the melted dark chocolate and mix. Mix the baking soda and flour separately, then gradually add the mixture to the chocolate mixture. Bake for 1 hour 30 minutes at 325 °F.
Step 3/5
Cut off the ends of the apples and plunge them into the lemon water. Peel the remaining apple centers, core, and dice the apples. Melt the remaining butter and scrape out the seeds of a vanilla bean. Add 3 tbsp sugar to the butter, add the diced apples in when it browns, and let caramelize for about 10 minutes over medium heat. Cut off the ends of the apples and put them back into the lemon water. Pour a 1/2 cup of water into the pan with the remaining sugar and place the slices in it. Cook for 1 minute and then stop cooking by placing the apples back in the lemon water.
Step 4/5
Whip the mascarpone with the powdered sugar, heavy whipping cream, and the seeds of the second vanilla bean. Set aside in the fridge for 30 minutes. Unmold the cake and make an incision around the edge to get two parts. Cut the inside of the cake in a spiral with the knife, removing the pieces to leave spaces between the grooves. Do the same with the other part. Fill the freezer bag with whipped cream and cut off the bottom corner to make a piping bag. Place the bottom part of the cake on a plate, fill the grooves with whipped cream, and place the caramelized apples on top of each part. Pipe the whipped cream on top and close with the second cake. Use the rest of the whipped cream by drawing vertical lines around it, then spread the whipped cream with a spatula by turning the plate. Cover the top of the cake with whipped cream, spread, and add the apple slices in a rosette.
Step 5/5
Decorate the edge of the cake with the marbled chocolate, place the cake in the fridge before removing the plastic wrap. Crumble the pieces of leftover cake and place them around the cake as a decoration. Serve and enjoy!