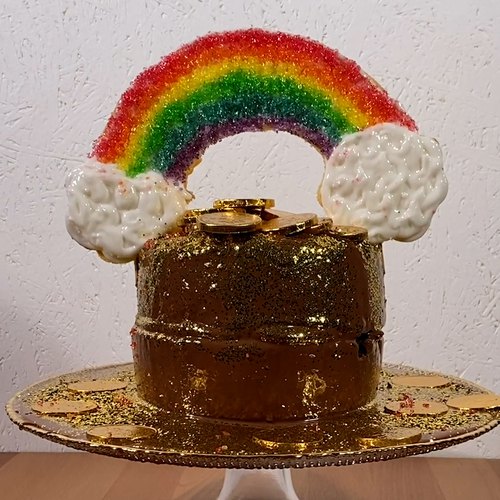 Golden Leprechaun Cake
A chocolate treat overflowing with Irish luck 🌈🍀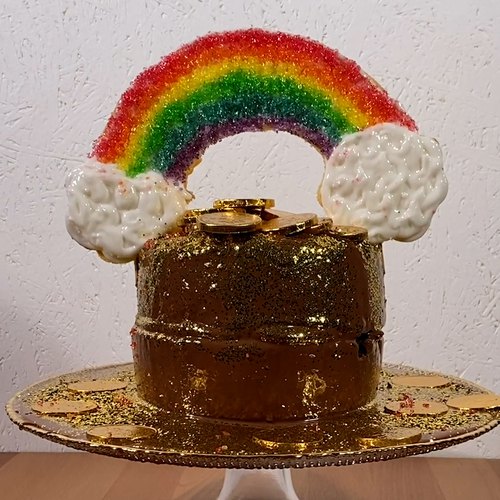 ---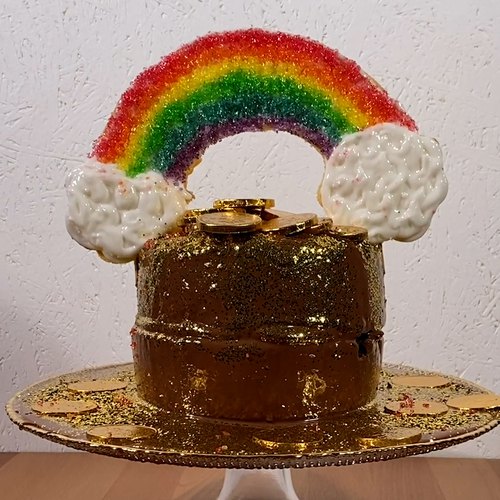 ---
Ingredients for 8 people
2 chocolate cake mixes
6 eggs
1 cup of vegetable oil
2 1/2 cups of water
1/2 cup of heavy cream
1 cup of dark chocolate
sugar cookie dough
colored sugar
3 cups of milk chocolate
edible gold glitter
gold chocolate coins
---
Tools
Ruler
Tape
Colorful card stock
Thick plastic sheet
Round cake pans
Cardboard
Box cutter
Skewers
Piping bag
---
Step 1/4
Make the hat out of card stock as seen in the video. Roll and tape together the plastic sheet to form the plastic tube. Set aside.
Step 2/4
Make the cake by combining 2 chocolate cake mixes with eggs, vegetable oil, and water. Mix until smooth. Pour into 2 greased cake pans and bake for 40 minutes at 350° F. Let cool. Bring the heavy cream to a boil and pour over the dark chocolate. Whisk until smooth and place in a piping bag. Set aside.
Step 3/4
Cut the shape of a rainbow out of a piece of cardboard. Roll out the sugar cookie dough and use the piece of cardboard to make one large sugar cookie the shape of a rainbow. Insert 2 wooden skewers at each end of the rainbow and cover the top of the skewer with remaining dough. Freeze the dough for 30 minutes before baking and then bake for 12 minutes at 350° F. Let cool. Cover with icing sugar and decorate the rainbow with colored sanding sugar. Set aside.
Step 4/4
Remove the 2 cakes from their pans and cut off the top inch of each cake so the surface is completely smooth. Pipe the chocolate ganache on top of the first cake. Place the second cake on top. Insert the plastic tube into the cake and cover with the hat. Melt the milk chocolate and pour it into the plastic tube. Pour in the edible gold glitter and gold coins. Lift the hat to let the chocolate cover the cake and reveal the glitter and coins. Decorate with the sugar cookie rainbow and enjoy!