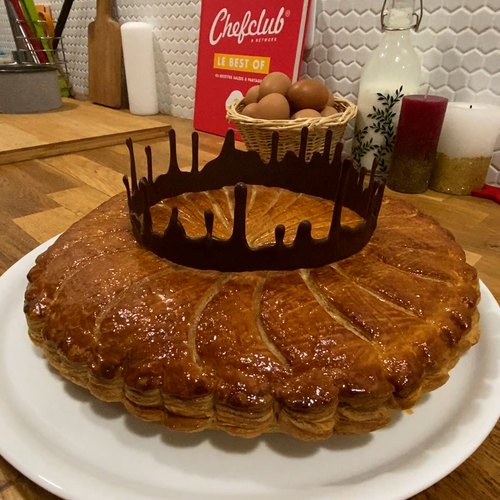 Royal Chocolate Pie
A dessert fit for a queen... or king 😉👑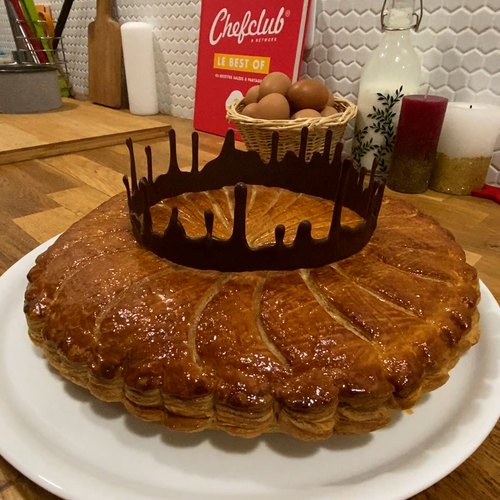 ---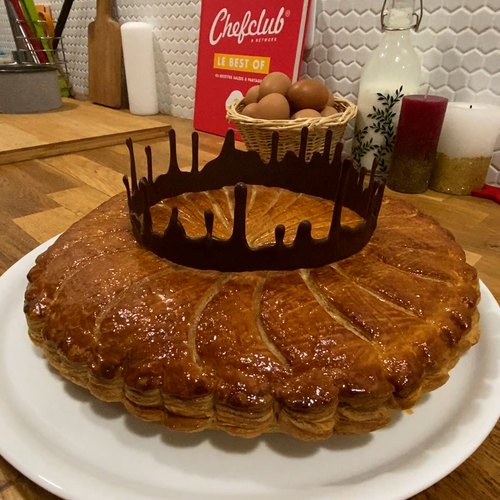 ---
Ingredients for 6 people
1/2 cup of melted dark chocolate
1/3 cup of salt
1 cup of flour
2 sticks butter + 1 1/2 tbsp butter
1 cup of powdered sugar
2 2/3 cups of hazelnut powder
6 eggs
1/2 cup of chefclub's chocolate spread, palm oil free
2 sheets of puff pastry
---
Tools
Springform pan
Parchment paper
Small cake mold
---
Step 1/4
For the chocolate crown: cut a strip of parchment paper and fix it around a baking circle or a small cake mold. Pour the dark chocolate into a freezer bag and cut off a bottom corner to make a piping bag. Pipe the chocolate around the top of the circle several times so that the chocolate runs down the side and forms a crown upside down. Set in a cool place.
Step 2/4
For the salt dough figurine: mix the salt, 1/4 cup water, the flour and form a ball. Flatten the ball and mark the imprint of one of the Chefclub characters on the handle of the measuring cups. Cut into a rectangle and put in the oven for 1 hour at 215 °F.
Step 3/4
For the cake filling: mix the softened butter with the powdered sugar to obtain a smooth dough. Add the hazelnut powder, 5 eggs, and the Chefclub chocolate spread and mix well. Place in a cool place.
Step 4/4
Place one sheet of puff pastry on a parchment lined baking sheet. Arrange a pastry circle in the center, pour the pastry filling into it, and smooth. Remove the pastry circle, press in the salt dough figurine, brush the edges of the pastry with water, and cover with the other puff pastry sheet. Press the edges well together to glue the two doughs together and make ridge marks with the back of a knife blade. Turn the cake over and place it on a parchment lined baking sheet. Brown the dough with a beaten egg and mark decorative swirls in the center using a knife. Bake for 30 minutes at 350 °F. Place the chocolate crown on the cake, serve in parts, and enjoy!